Trimper's Haunted House
Closed
Sunday

12:00 pm - 6:00 pm

Thursday

12:00 pm - 6:00 pm

Friday

12:00 pm - 8:00 pm

Saturday

12:00 pm - 8:00 pm
Located at the heart of America's oldest single-family run amusement park, the award winning Haunted House has been thrilling guests for over 50 years. Trimper's famous dark ride a five-minute journey through optical illusions, other-worldly sensations and scenes of horror served with a pinch of humor.

This boardwalk icon was designed by award winning amusement art Bill Tracy and constructed by Granville Trimper in 1964. During the winter of 1988, Granville reimagined the ride-- adding a second story using track and stunts from a closed Tracy attraction -- making it one of the longest dark rides in the industry. Like the town it calls home, the ride has seen many changes over the years. Stunts have come and gone, replaced by the latest in scare effects to keep the ride fresh and exciting without losing it's signature style. As write/filmmaker John Waters says "It is worth a visit to this town just to go on it."
Your coffin await...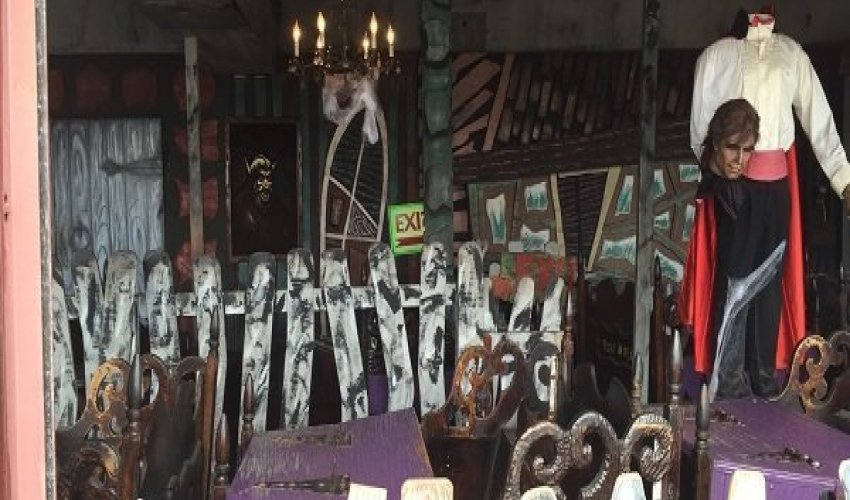 Recent Reviews
Travelers Choice 2020
TripAdvisor Traveler Rating
4
Trimper's Haunted House
660
#5 of 29 things to do in Ocean City
Great Experience!
My family spent the evening last night at Trimper's rides. We bought the evening wristbands and rode the rides for over three hours. The lines were very short and the staff kept the rides clean...
Q7990MMmarieb
2020-08-05 08:58:11
Trimper's Haunted House
Excellent memories of the Haunted House
Almost every year since our children could ride, as a vacation-starter tradition, we first do the Haunted House and never tire of it! This year, there were additions and upgrades to the spooky stuff...
DebZu
2020-08-28 17:16:56
Trimper's Haunted House
Best Rides in OC!
I've been riding these rides since I was tall enough to ride, and now my kids are. These are, by far, the best rides at the beach! Whether you're a small child or an adult, there's rides for...
Wearethemillers1022
2020-09-05 12:47:35
Trimper's Haunted House