Trimper's Haunted House
4:00 pm - 10:00 pm
Sunday

12:00 pm - 4:00 pm

Thursday

4:00 pm - 10:00 pm

Friday

4:00 pm - 6:00 pm

Saturday

12:00 pm - 6:00 pm

Monday

4:00 pm - 10:00 pm

Tuesday

4:00 pm - 10:00 pm

Wednesday

4:00 pm - 10:00 pm
Located at the heart of  America's oldest single-family run amusement park, the award winning Haunted House has been thrilling guests for over 50 years.  Trimper's famous dark ride a five-minute journey through optical illusions, other-worldly sensations and scenes of horror served with a pinch of humor.  

This boardwalk icon was designed by award winning amusement art Bill Tracy and constructed by Granville Trimper in 1964.  During the winter of 1988, Granville reimagined the ride-- adding a second story using track and stunts from a closed Tracy attraction -- making it one of the longest dark rides in the industry.  Like the town it calls home, the ride has seen many changes over the years.  Stunts have come and gone, replaced by the latest in scare effects to keep the ride fresh and exciting without losing it's signature style.  As write/filmmaker John Waters says "It is worth a visit to this town just to go on it." 
Your coffin await...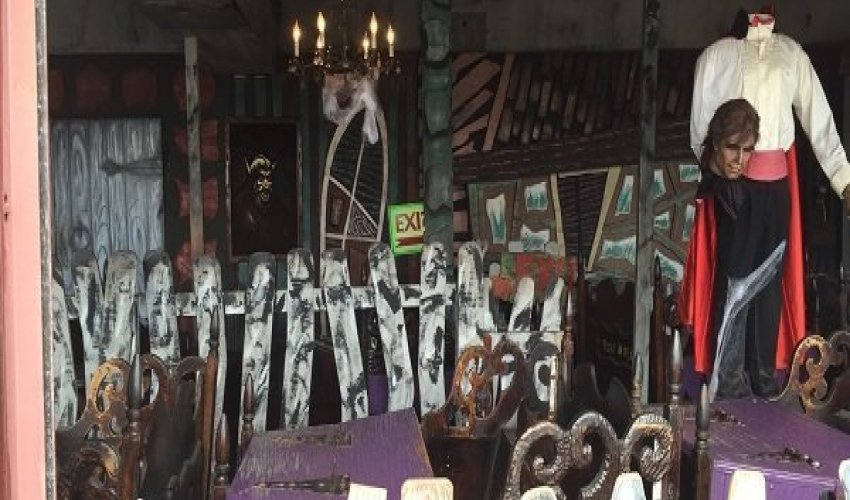 Amy G : 4 on 5/11/2023 7:48 pm
An OCMD landmark! Always loved this place as a kid growing up but never rode it tip last weekend. Awesome little ride, worth the price. Might be too much for some younger riders/sensitive to lights, but definitely fun. They definitely put some effort into this ride and change it up every so often. Their website gives a great little history about the ride as well. Was not prepared for the few jump scares but it's definitely an experience!
Amy G
1683834533
Trimper's Haunted House
Stephanie Ruff : 5 on 9/18/2023 2:17 am
We absolutely LOVE Trimper's Haunted House. Our 8 year old daughter loves it. We visit Ocean City several times a year. Each visit we HAVE to go through the haunted house. Sometimes this consists of 10+ times in a week, 5+ for a weekend visit. As usual, this weekend visit was 5 times. Each time she wanted to see Michael Myers. Unfortunately the first 4 times he was not there. On our last night, we asked the gentleman at the front and he said Michael wasn't there. She was disappointed but still of course wanted to go through. This man who I am assuming is the owner must have seen her disappointment. When we were going through he called his son to watch the front, he ran inside with a bum knee and "Michael Myers" appeared! Not once, not twice but several times. Our daughter was sooooo excited! This was a great ending to a wonderful trip. I cannot say enough good things about this place. We will continue to come back every time we visit. Thank you so much!
Stephanie Ruff
1695003479
Trimper's Haunted House
James Duffy : 5 on 8/18/2023 5:08 pm
This is the best boardwalk haunted house ever! My kids and I do a week vacation in OC and we make sure to hit the haunted house every night (sometimes twice 😅)
James Duffy
1692378497
Trimper's Haunted House