The Spinnaker
Please call for hours
Located a half block from the Beach and the Boardwalk The Spinnaker is located oceanblock on 18th Street in Ocean City, Maryland. Enjoy our convenient location, just steps from the beach and world famous Boardwalk.
Walk to the beach, shopping, amusements and restaurants - it's all nearby.

And, the best part... we are easy on your wallet and offer an affordable family vacation. We provide the features of an apartment at prices comparable to, or below, motel rates.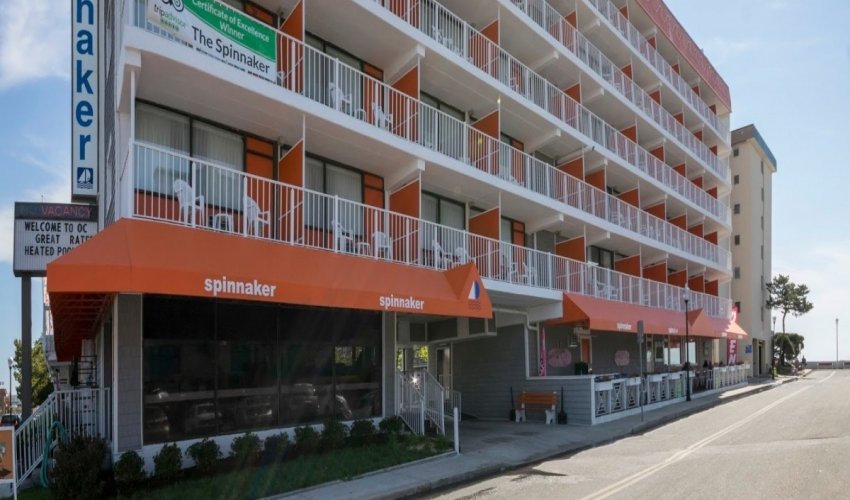 $$
Recent Reviews
TripAdvisor Traveler Rating
4
The Spinnaker
489
#17 of 117 hotels in Ocean City
Disappointing Stay
We were given Room 511, the furthest away from an ocean view. I don't know how they could even call this an ocean view room. When we entered, we noticed the latch was broken. I don't know how they...
Theresa L
2022-08-07 09:31:09
The Spinnaker
Overall clean, great location, and affordable
We stayed July 19th - 22nd and was able to book for under $290/night. The room was clean, the desk staff is amazing, the location is perfect for a family with young children. I'd book here again in...
U1920EEchrisp
2022-08-14 05:21:21
The Spinnaker
Great location, large room
We enjoyed our stay. We were almost right on the board walk. The Cafe was amazing for breakfast. This is a great location. My sister and I took our teenage girls (14 & 15). They had a fun time...
Debrenee211
2022-08-30 09:37:32
The Spinnaker