The Spinnaker
Please call for hours
Located a half block from the Beach and the Boardwalk The Spinnaker is located oceanblock on 18th Street in Ocean City, Maryland. Enjoy our convenient location, just steps from the beach and world famous Boardwalk.
Walk to the beach, shopping, amusements and restaurants - it's all nearby.

And, the best part... we are easy on your wallet and offer an affordable family vacation. We provide the features of an apartment at prices comparable to, or below, motel rates.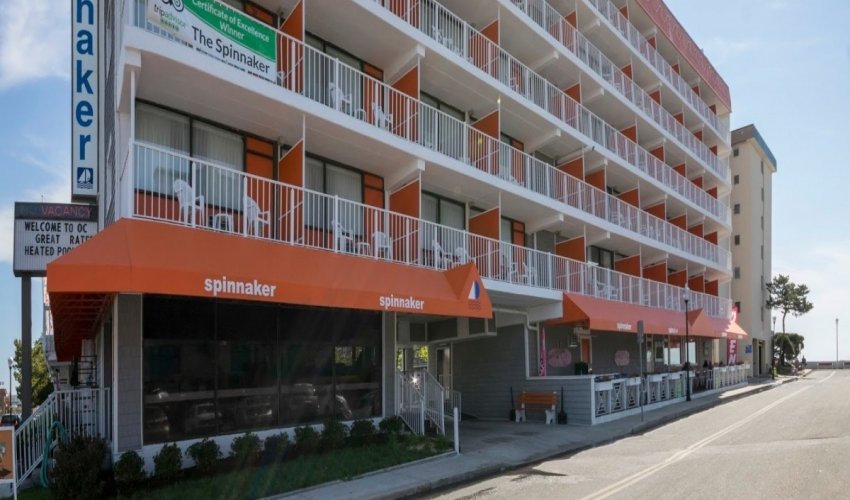 $$$
Recent Reviews
Travelers Choice 2020
TripAdvisor Traveler Rating
5
The Spinnaker
479
#13 of 116 hotels in Ocean City
Nice space
This is the second time staying here. Both times have been very comfortable but even better this time. Clean room and nice side view for the price. Basically on the boardwalk. Plenty of parking...
tinamN4361DX
2020-08-28 04:56:58
The Spinnaker
Great rooms with ocean view
Very nice hotel. Room was a bit musty smelling (totally expected), We had spray and it worked nicely. room was very comfortable and had all the things we needed for a weeks stay. Very clean and...
elainekY4612CH
2020-09-04 16:03:23
The Spinnaker
Comedy of errors
Resort nice but they sale you something but deliver something else never get what you pay for purchase two bedroom get two one bedrooms, Purchase vacation packages with two stay told only one...
cynthialoliver
2020-10-07 13:21:18
The Spinnaker