The Mermaid Museum
11:00 am - 4:30 pm
Sunday

11:00 am - 4:30 pm

Monday

11:00 am - 4:30 pm

Tuesday

11:00 am - 4:30 pm

Wednesday

11:00 am - 4:30 pm

Thursday

11:00 am - 4:30 pm

Friday

11:00 am - 4:30 pm

Saturday

11:00 am - 4:30 pm
The Mermaid Museum is in the heart of Downtown Berlin, Maryland. This is a magical place where you can hear, see, and touch everything Mermaid.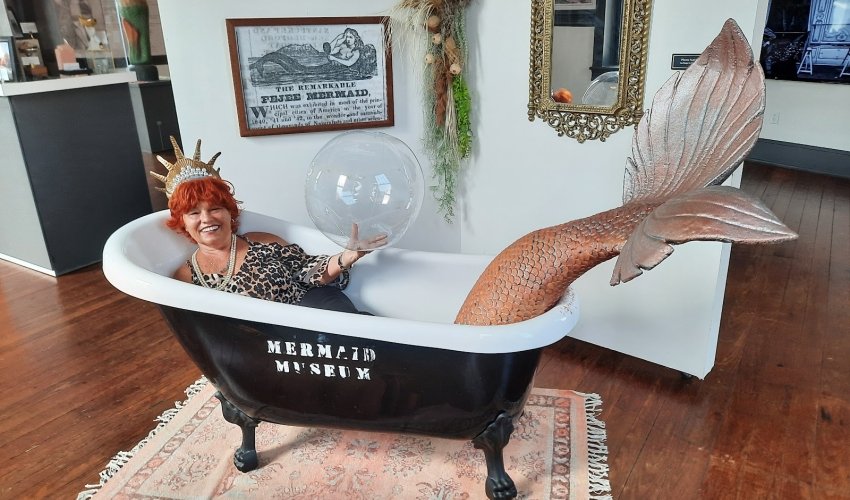 Patricia Pinson : 5 on 10/18/2023 11:40 pm
I've stopped in Berlin every time my family has taken a trip to Ocean City, but this time was my first stopping by here. It's little, but man is it a hidden gem! Lots of interesting information, sculptures, and displays to learn about. The staff was INCREDIBLY helpful and friendly in taking my photo in the giant seashell display. Definitely recommend stopping by here if you're in town!
Patricia Pinson
1697672441
The Mermaid Museum
Miss Val : 4 on 7/25/2023 2:11 am
I'm an adult and still enjoyed this with no kids. If you have young ones though I'm sure they would enjoy it. It's small so it can be a quick in and out or you can spend time looking around and reading the displays. There's opportunity to play mermaid dress up and pose for a photo which would be fun for kids. I went on a Monday, did not purchase a ticket in advance and just walked right up. No pictures inside except specific area which I did not do.
Miss Val
1690251068
The Mermaid Museum
Rebecca Eisenhardt : 5 on 8/17/2023 6:13 pm
This was something new and fun to check out! We would have never come to Berlin if we hadn't run into Sarah on the beach in ocean city. It was extremely ironic that my boyfriend and I had just been lamenting that we do the same activities every time we vacation and as a local she had some wonderful new suggestions for us. Jane was working when we visited and she was bubbly, welcoming, and a joy to chat with! A great place for people who don't take life too seriously, we had a blast!
Rebecca Eisenhardt
1692295983
The Mermaid Museum