The Bayside Skillet
7:30 am - 2:00 pm
Sunday

7:30 am - 2:00 pm

Monday

7:30 am - 2:00 pm

Tuesday

7:30 am - 2:00 pm

Wednesday

7:30 am - 2:00 pm

Thursday

7:30 am - 2:00 pm

Friday

7:30 am - 2:00 pm

Saturday

7:30 am - 2:00 pm
Type:
American
,
Beach Food
Overlooking the bay, the Bayside Skillet has been an Ocean City tradition since 1977. Whether it's a romantic night under the stars you're looking for or a menu that will entice the entire family. Jumbo lump crabcakes, filet mignon and a variety of chicken, pasta and fresh fish are just a start. Nightly specials such as blackened prime rib, Caribbean grilled shrimp, stuffed lobster tail and fabulous fresh fruit sauces are sure to be as pleasing to the eye as the palate. Enjoy a glass of wine, cocktails or your favorite fresh fruit frozen drink with your dinner or at the bar overlooking the bay. Kids menu and carry out also available. Happy Hour 4-7pm, Monday - Friday.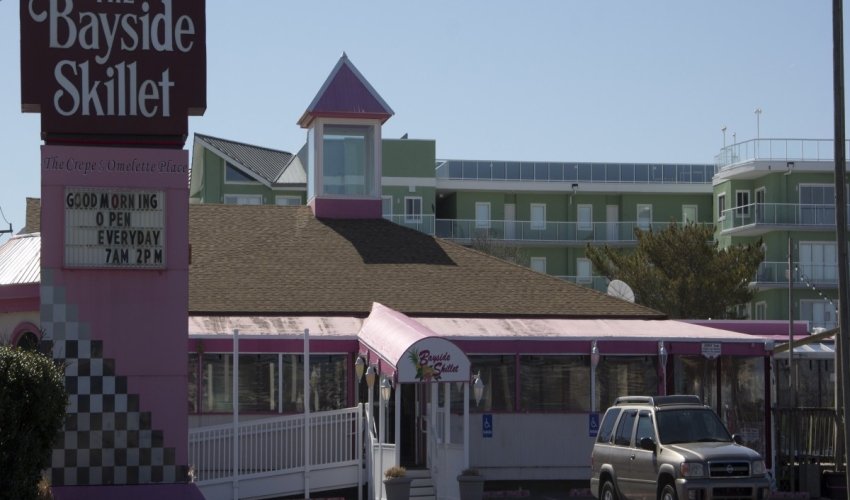 $$ - $$$
Recent Reviews
TripAdvisor Traveler Rating
4
The Bayside Skillet
1251
#27 of 413 Places to Eat in Ocean City
Perfect
The fresh squeezed orange juice out of this world…. Out freaking standing… The food was incredible the wait staff was incredible.
2reasons2fret
2022-10-16 08:49:45
The Bayside Skillet
Great hardy breakfast at a reasonable price.
I had the bacon and spinach for breakfast. My husband chose the "Dirty" Banana Royale. Both were excellent, but next time we go back when we are in the area, I will have the "Dirty" Banana Royal...
augweddedbells
2022-10-21 06:49:16
The Bayside Skillet
Fabulous and Gluten Free
Had breakfast at the Bayside Skillet twice during our short stay in Ocean City / Fenwick Island. Highly recommend! 1) extremely friendly staff 2) extremely delicious food 3) no issues after eating...
TripsWith2Kids
2022-12-22 11:42:27
The Bayside Skillet