The Ambassador Inn
Open Now 12:00 am - 11:59 pm
Sunday

12:00 am - 11:59 pm

Monday

12:00 am - 11:59 pm

Tuesday

12:00 am - 11:59 pm

Wednesday

12:00 am - 11:59 pm

Thursday

12:00 am - 11:59 pm

Friday

12:00 am - 11:59 pm

Saturday

12:00 am - 11:59 pm
The all new Ambassador Inn has repositioned itself to an All family and couple, non smoking property for the clientele who is seeking quaint and clean lodging near the finest part of the Ocean City beach, and clientele who is tired of paying unaffordable prices for amenities that are unnecessary to their comfort. We will be providing Clean rooms, adequate parking, great location and quaint accommodations for an affordable family experience, all within a setting of Ocean City's old world charm.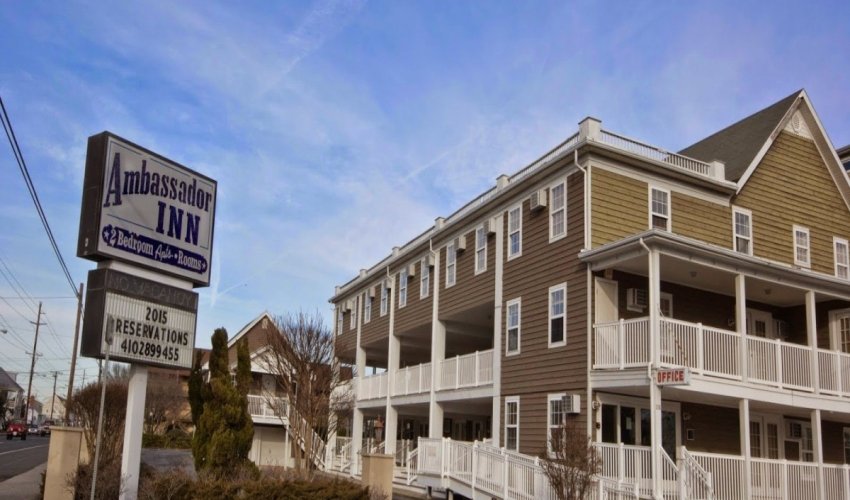 $$
Recent Reviews
TripAdvisor Traveler Rating
2
The Ambassador Inn
59
#19 of 22 B&Bs / Inns in Ocean City
Filthy!
We stayed on the 3rd floor which you had to walk up rickety steep wooden planks as stairs as there is no elevator which was very unsafe as other couples were complaining as well. Upon entering the...
lisakP7355OF
2021-07-22 16:28:10
The Ambassador Inn
Convenient
Close to boardwalk, activities & restaurants. Outdoor parks close for kids. Comfy beds no bugs. 2nd fl balcony was nice for sitting. Kitchen is not well equipped. I wiped everything down with clorox...
Energize2018
2021-09-07 10:43:48
The Ambassador Inn
Don't listen to the bad comments
Me and a group of 5 friends rented a 2 bedroom apartment and it was actually a really affordable and comfortable living area for a 4 day stay. Boardwalk is a two minute walk out and having access to...
174zixiangw
2022-08-06 13:00:46
The Ambassador Inn