The Ambassador Inn
12:00 am - 11:59 pm
Sunday

12:00 am - 11:59 pm

Monday

12:00 am - 11:59 pm

Tuesday

12:00 am - 11:59 pm

Wednesday

12:00 am - 11:59 pm

Thursday

12:00 am - 11:59 pm

Friday

12:00 am - 11:59 pm

Saturday

12:00 am - 11:59 pm
The all new Ambassador Inn has repositioned itself to an All family and couple, non smoking property for the clientele who is seeking quaint and clean lodging near the finest part of the Ocean City beach, and clientele who is tired of paying unaffordable prices for amenities that are unnecessary to their comfort. We will be providing Clean rooms, adequate parking, great location and quaint accommodations for an affordable family experience, all within a setting of Ocean City's old world charm.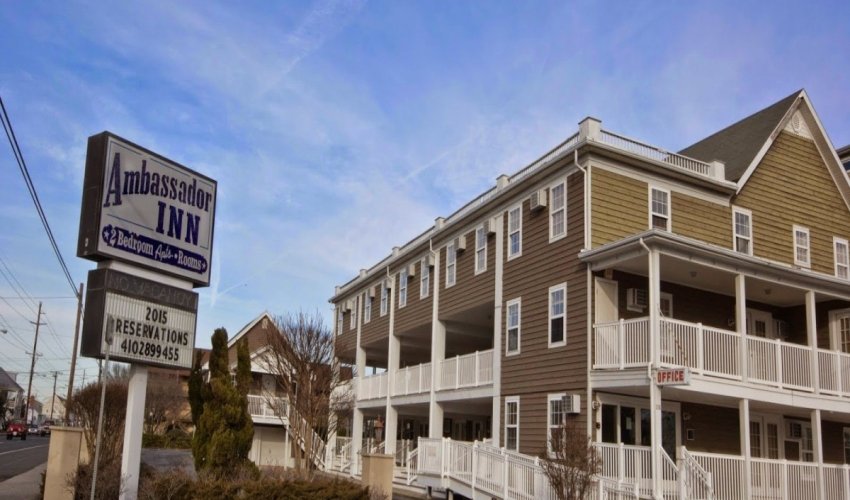 $$$
Recent Reviews
TripAdvisor Traveler Rating
2
The Ambassador Inn
56
#18 of 21 B&Bs / Inns in Ocean City
Not what I expected but okay....
I stayed in a apartment & it wasn't what I expected... It was spacious, but very dirty. We found so much trash under the beds, in the bathroom, behind the couch & dressers. The trash was: water...
melani1999
2020-06-29 15:36:02
The Ambassador Inn
Dirty
When we arrived to the room the room door looked unsafe. The bathroom had soap left from the people that was there before me. The blinds and furniture was very dusty.The room was not what I thought...
W2254JZlb
2020-08-20 14:44:17
The Ambassador Inn
Yikes
WiFi doesn't work, bed sheets/pillowcases/bedding isn't cleaned and has stains/rips in it. The towels feel like sandpaper. There's mold surrounding everything. Light fixtures are missing ??? Holes in...
536riap
2020-09-26 18:26:07
The Ambassador Inn