Splash Mountain Water Park
Please call for hours
Challenge yourself with the Eye the Hurricane or challenge Family and Friends at the Six Lane Super Racer! Take the whole family on an island adventure in our customer favorite, THE RAIN FOREST! Walk, climb, and slide your way through the passageways of a tree house that any band of shipwrecked voyagers would envy. Take a ride down one of the many slides sized for the whole family. Battle other adventurers with water guns, tipping buckets, water wheels and more. But beware of the Pirate perched way overhead or a tidal wave of dumping water may just soak you! 
When you've finished your adventures in the Rain Forest take a short walk to our Wave Pool and frolic in our private ocean that has all the fun of the real thing without having to worry about salt in your hair or sand in your shorts. When you're ready for more watery adventure, test your courage by taking a nerve tensing plunge down the sides of the Stealth, our 45-foot tall half-pipe slide, or experience the thrill of being shot uphill amidst a torrent of frothing water on the Master Blaster water roller coaster. Challenge your fear of the dark on the Black Hole Slides, experience the thrill of river rafting on our Rapids Ride, or take a twisting run down the Tower Tube Flume. Ride with a partner or alone on the Double Tube Flume, or take a tubeless ride down the Body Slide. Just for fun, see how big a splash you can make on the Cannonball Slides. 
When it's time to slow down, play with the kids in one of our three Kiddie Pools, shoot a watery game of hoops or try your hand at some liquid volleyball in our Lost Lagoon Family Activity Pool. Meander your way around our 1000-foot long Lazy River, or just sit back and relax in the soothing jets of the Waterfall Bubble Pool. Whatever your likes, Splash Mountain offers an unmatched variety of cooling activities suited for everyone in the family, all under the watchful eyes of a fully trained and certified Water Safety Staff. 
Complimentary Life jackets in sizes to fit almost everyone are also available for your use while in the park. Need a little privacy? Try out one of our cabanas. Couple all this with an abundance of deck chairs and lounges, refreshing treats from our concessions stands, and convenient bathhouses and locker facilities, and you have a truly invigorating way to spend your day. 
Other parks on site include:
Jungle and Treasure Hunt Mini Golf
Also, don't forget about the Jolly Roger
®
 Pier Rides at the Inlet!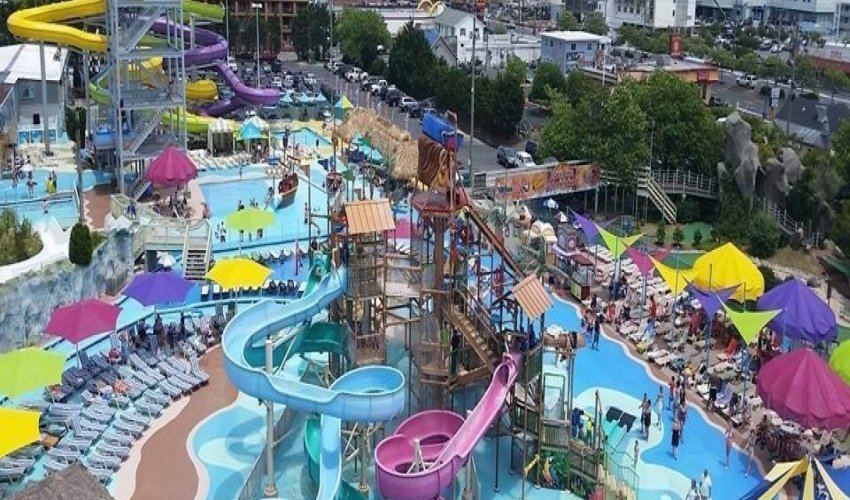 Recent Reviews
Splash Mountain Water Park
Sheila Hawk : 4 on 9/9/2023 10:03 pm
This was our first time at Splash Mountain Water Park. It was myself and my two kids. There is tons of things to do there for ALL ages. Any kid who is under 42" has to wear a lifejacket when they are in areas that has any depth to it and the wave pool. It is a great place for everyone. There is only a couple things that could be better. They need to more restrooms and have them in better places. The food is ridiculously expensive, but you are able to bring outside food and drink in. Thank goodness we did that instead. They could also have lockers up front too instead of all the way in the back too. We would definitely go again.
Sheila Hawk
1694297023
Splash Mountain Water Park
Heather Puckett : 5 on 7/8/2023 11:00 pm
The park itself was wonderful, my 6 yr old had a blast! The slides/pools/attractions were all so varied and new and exciting. We spent the first 3 hours right at the entrance until we ventured further in, to explore. There's so much to do. Alot of different food and drink options, but I also noticed people bringing in their own without any issues, so that's good to know. I will mention one thing, it was VERY expensive. We went on a Saturday and it was $98 for my son and I. That's admission for the entire day, you can leave and come back ect. But it might be courteous of the park to offer...half day prices for the folks who arrive at 2pm (park closes at 6pm) as we did. But other than that, no complaints. Will probably go again!
Heather Puckett
1688857232
Splash Mountain Water Park
Andrew Dale : 5 on 6/18/2023 2:33 pm
Surprisingly great water park. It doesn't look as big from the road but it is a really nice size water park. They have the lazy River, water slides (the one that is a super drop and almost does a loop. Great for the little ones and older kids as well. They have a splash park area for the kids. They have food, snacks, and drinks. Very pricey but definitely worth it. Free parking is a plus!!!
Andrew Dale
1687098792
Splash Mountain Water Park