Seacrets Distilling Company
11:00 am - 5:00 pm
Saturday

11:00 am - 5:00 pm

Sunday

11:00 am - 5:00 pm

Friday

11:00 am - 5:00 pm

Thursday

11:00 am - 5:00 pm

Monday

11:00 am - 5:00 pm

Tuesday

11:00 am - 5:00 pm

Wednesday

11:00 am - 5:00 pm
This 12,000 square foot, pre-prohibition era distillery, erected in 2016, is the first distillery to be build in Worcester County since the end of Prohibition in 1933.  Seacrets Spirits is a fearless collection of small batch, hand-crafted spirits.  We offer a wide selection of premium spirits from rum to vodka, gin and whiskey.  Our flavored vodkas are a must try as they are macerated with fresh fruits.
Book a tour today!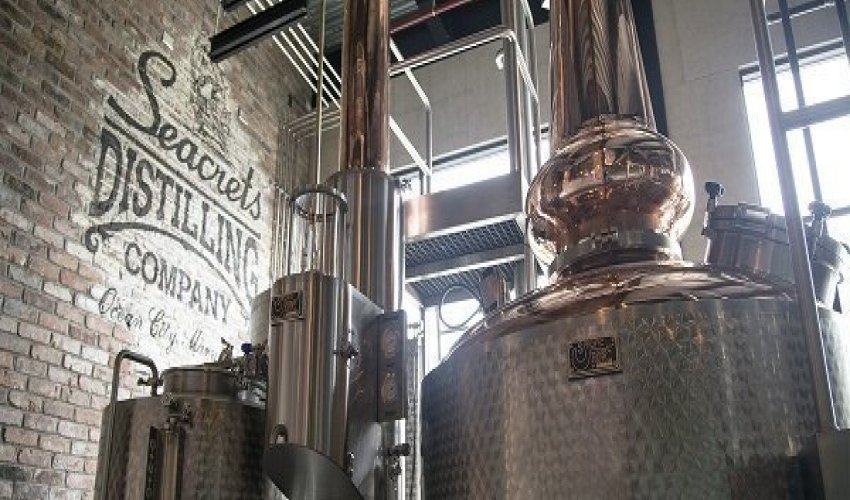 Recent Reviews
TripAdvisor Traveler Rating
5
Seacrets Distilling Company
89
#11 of 28 things to do in Ocean City
More than expected!
This tour was so much more than I was expecting. The antique details throughout the building really make this an experience! I was only expecting a 'how it works' tour but it was so much more.
153meganm
2022-02-26 15:20:27
Seacrets Distilling Company
Something not to miss
This tour is wonderful....what a great experience. So much more than expected, it was so much fun, the atmosphere was learning and having fun at the same time. Our guide Heidi was amazing, so...
Shatom1
2022-07-20 07:10:31
Seacrets Distilling Company
great tour
Need Something to do then try the distilling tour. Our tour guide was great learned lots of things. At the end there was a tasting room and they didn't skimp on the samples. Of course we all bought
Stiegjl
2022-10-02 16:30:00
Seacrets Distilling Company