Rum Pointe Seaside Golf Links
7:00 am - 5:00 pm
Sunday

7:00 am - 5:00 pm

Monday

7:00 am - 5:00 pm

Tuesday

7:00 am - 5:00 pm

Wednesday

7:00 am - 5:00 pm

Thursday

7:00 am - 5:00 pm

Friday

7:00 am - 5:00 pm

Saturday

7:00 am - 5:00 pm
Ranked Top 5 in state by Golf Week
Rum Pointe Seaside Golf Links has become Ocean City's "must play" new course and one of Maryland's premier golf venues. This spectacular seaside design by the world-renowned father/son team of Pete & P.B. Dye opened in the spring of 1997. Located on Highway 611 on the Sinepuxent Bay overlooking Assateague National Seashore Park, Mother Nature and the Dye's have combined talents to bring world-class golf to the Ocean City area.

This Scottish-style links is the only area course to feature bent-grass on the fairways and greens. No less than 17 of the 18 holes have a bay view with several holes having direct bay frontage, where you can start your ball over the water to shorten the hole. The Dyes have certainly created situations of risk and reward that will quicken the heart rate of even the most experienced golfer. From the back tees this championship quality course is capable of hosting a PGA Tour stop but forgiving enough from the middle tees to satisfy golfers of all skill levels.

To maintain superior course conditions, we are an alternative spike facility. Please refrain from wearing metal spikes. Thank you (Spike changing services provided at Pro Shop).

Rum Pointe, with bent grass from tee to green, is a full service facility staffed by PGA Professionals.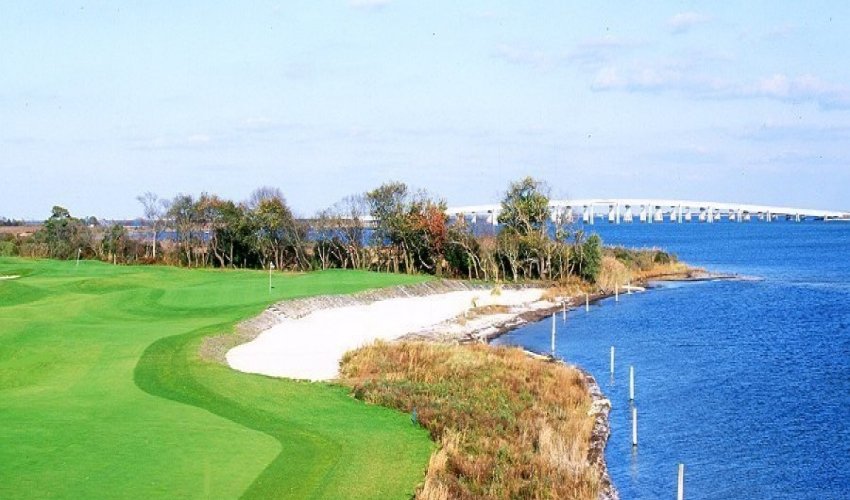 Recent Reviews
Rum Pointe Seaside Golf Links
I.E. Xam : 5 on 10/4/2023 11:37 pm
I rarely give 5 stars for a golf course except of course when it is earned. On the water with exceptional views. Course is in excellent shape. Course is a bit above average difficulty. We played in 4:15 - a tribute to the staff keeping the golfers on track. Not cheap but well worth every penny.
I.E. Xam
1696462636
Rum Pointe Seaside Golf Links
Jesse N : 5 on 10/16/2023 12:30 pm
Top links course in the area! I played this 10/14/23 and it did not disappoint in anyway. Course was in great shape with the typical links but without a lot of fescue. Carts, range, etc were all well taken of and in great shape. Views of the marsh and bay are amazing. Green were in great shape. Holes 9 and 18 are headed directly back at the club house giving a great finish.

This is my top links course and will be in my rotation when I visit. ***Bring mosquito spray*** I have no idea why but if you went in the wood 10 mosquitos would immediately attack.
Jesse N
1697459457
Rum Pointe Seaside Golf Links
Bradley P : 5 on 7/7/2023 11:42 pm
What an amazing day of golf!! My brother and I came here to get our annual OC round in. Conditions were great and the weather was amazing. I love that they include range balls for all patrons. Everyone was friendly. The greens were rolling medium/fast. There are a handful of bay view holes. We really enjoyed it!
Bradley P
1688773324
Rum Pointe Seaside Golf Links
Specials
Ruark Play 3 Special
8:30 am - 5:00 pm
Special runs from Jan 01 2023 to Dec 31 2023
Play 3 or more Ruark golf courses and receive Dinner Voucher Credits for Ruth's Chris Steakhouse or The Restaurant at Lighthouse Sound.
Your group can dine at either location! $50 per foursome or $25 per twosome.
Dinner vouchers are issued with qualifying pre-paid Ruark rounds. Discounted and afternoon rates do not apply. Not valid with Summer Triple Play Specials. Rates determined by dates of play and courses chosen.
Please call 888-424-8004 for more information, quotes or to reserve your package.