River House Inn
Open Now 12:00 am - 11:59 pm
Sunday

12:00 am - 11:59 pm

Monday

12:00 am - 11:59 pm

Tuesday

12:00 am - 11:59 pm

Wednesday

12:00 am - 11:59 pm

Thursday

12:00 am - 11:59 pm

Friday

12:00 am - 11:59 pm

Saturday

12:00 am - 11:59 pm
Our spacious National Registered Victorian home is on the beautiful Pocomoke River. Located on Maryland's Eastern Shore, you can be as active or relaxed as you choose, the possibilities are endless. The area is rich in history and natural beauty, with antiquing, canoeing, boating, beaches, wildlife preserves, biking, swimming, fishing, and golf virtually at your door. We are located within a 30 to 45-minute drive to Assateague Island and Ocean City, Maryland.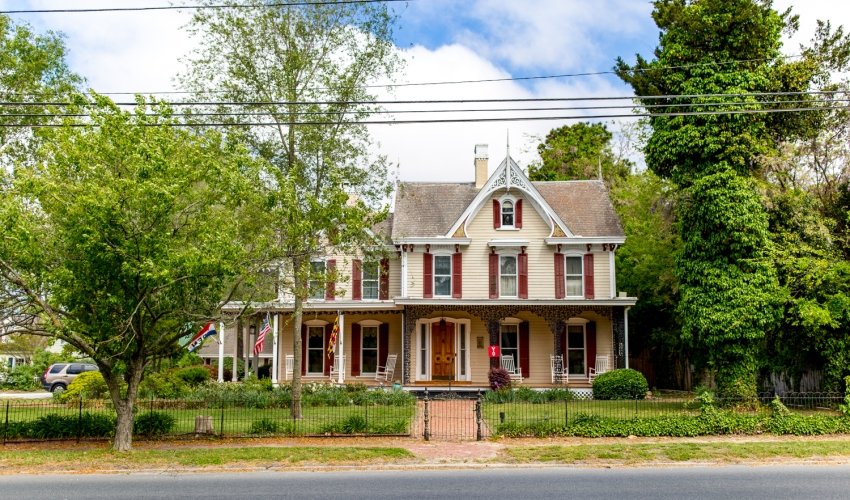 Brittany Whited : 5 on 8/27/2023 2:50 pm
Lisa, Bonnie, and Joe all made our stay very comfortable. It's a cute little place walking distance to shops and a bar with live music. The Inn has a pool and plenty of spots around the property to enjoy a book. Nice state park just down the road. Very dog friendly and even cooked our girl some bacon at breakfast. Human food was great too. 10/10 will visit again.
Brittany Whited
1693147818
River House Inn
Norman Rivera : 5 on 7/30/2023 6:28 pm
Bonnie and Lisa the innkeepers are gracious, generous, and gorgeous. The inn is beautiful and spacious. Lots of different rooms and spaces. Breakfast is awesome too. Always specials. We got a a room in the rear overlooking the river. Going to comeback and relax.
Norman Rivera
1690741706
River House Inn
David Jones (Dave J) : 5 on 9/18/2023 11:56 am
Stayed at the Inn recently for a cycling trip in the Snow Hill area. The Inn is located right on the Pocomoke River, with awesome views of the river from the porches and the pool area. The folks who run the place could not have been more gracious, welcoming, hospitable or charming. Joe is a gem and a rockstar host! Snow Hill is a special little town. All the charm of Berlin, but much more serene and peaceful. If you are looking for a venue for a getaway, a wedding or a group stay, you can stop looking now.
David Jones (Dave J)
1695038160
River House Inn