Quality Inn Oceanfront
Closed
Sunday

12:00 am - 11:59 pm
Welcome to the Quality Inn Oceanfront, an Ocean City hotel ideally located on Ocean City Beach

The Quality Inn® Oceanfront is the perfect year-round family vacation destination. This tropical hotel is ideally located on beautiful Ocean City Beach. This Ocean City, MD hotel is located minutes from the Jolly Roger Amusement Park, Ocean City Boardwalk, the Roland E. Powell Convention Center and the Assateague Island National Seashore.
There are a variety of restaurants and cocktail lounges located nearby. The on-site Atrium Cafe and Bar serves breakfast, lunch and dinner. The Ocean City Municipal Airport is only 10 miles from the hotel.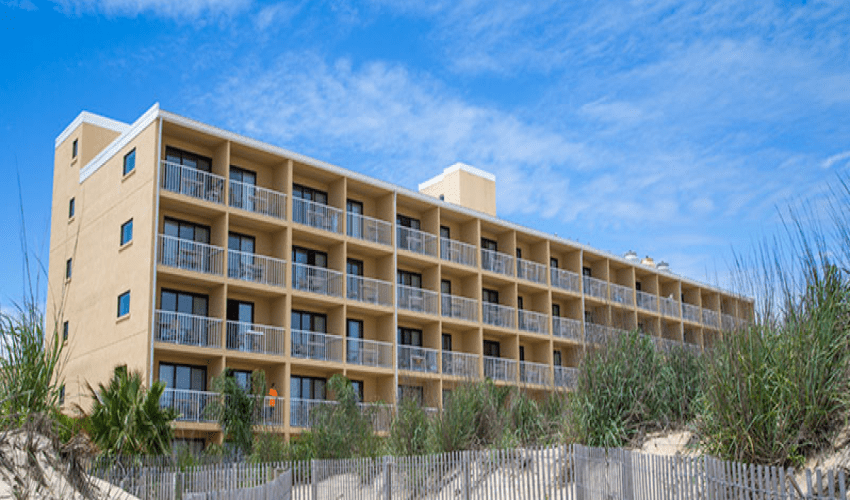 $$$
Recent Reviews
TripAdvisor Traveler Rating
4
Quality Inn Oceanfront
774
#43 of 116 hotels in Ocean City
Relaxation getaway
Was an amazing stay. People and staff very friendly. Bartender was amazing and fun to talk to. We will be back next year with our family. Hope to stay in the same room. Took care of our room very...
garywW1154YT
2020-09-16 08:40:49
Quality Inn Oceanfront
Family Vacation
It was nice there staff was friendly and room was clean. The only thing that could have been better was the stove. We had a great ocean front room which went right out to the sand. It was also close...
S1461LAheatherl
2020-10-08 13:59:19
Quality Inn Oceanfront
Would not return
Stayed here with my family for the weekend. CONS: Room obviously had a smoker in there sometime recently as it stunk. Corner had a wet spot on the carpet, smelled like beer. Paid for 6 guests to stay...
LauBauMtAiry_MD
2021-03-21 15:12:22
Quality Inn Oceanfront