Pizza Boy
Open Now 8:00 am - 10:00 pm
Sunday

8:00 am - 10:00 pm

Monday

8:00 am - 10:00 pm

Tuesday

8:00 am - 10:00 pm

Wednesday

8:00 am - 10:00 pm

Thursday

8:00 am - 10:00 pm

Friday

8:00 am - 10:00 pm

Saturday

8:00 am - 10:00 pm
Type:
American
,
Beach Food
,
Fast Food
,
Pizza
,
Sandwiches & Subs
,
Sweets and Ice Cream
Features:
Boardwalk
,
Carry-Out
,
Kid Friendly
,
Lite Fare
Pizza, burgers, cheesesteaks, gyros, beer, wine and more!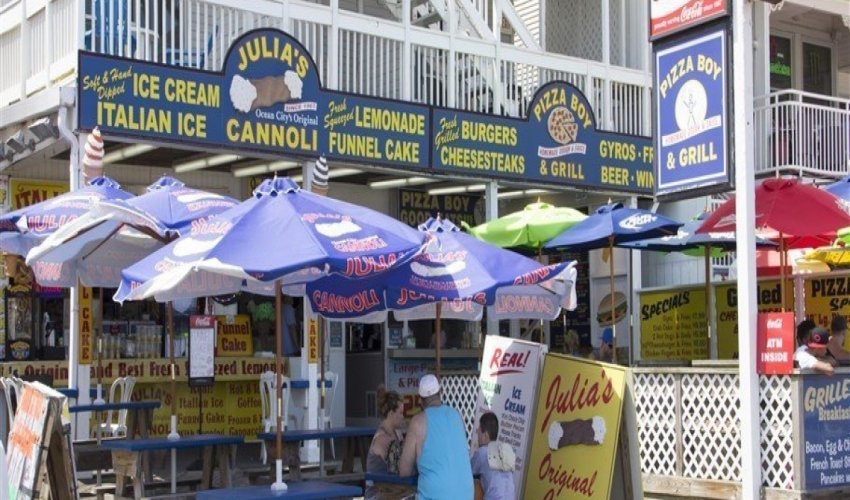 Ferework Fuje : 1 on 7/20/2023 12:52 am
If I had the option to award zero stars, I would. Therefore, I've reluctantly given this establishment a single star. The customer service is simply the worst. Charging over $25 for a cheese pizza, they make you wait for more than 20 minutes. Upon inquiring about your order after this long wait, they assure you it will be ready in just 30 seconds. Yet, after another minute or two, when you ask about your pizza, they inform you there's been a mix-up and it will be another 10-minute wait. Charging an exorbitant price for a pizza that's barely worth $7 or $8, they add insult to injury by giving your order to someone they know (I personally witnessed them serve a cheese pizza to a customer who arrived just minutes before they fed me their mix-up story). Whether you're craving pizza or anything else for that matter, I strongly advise you to avoid this place.
Ferework Fuje
1689814334
Pizza Boy
Gregory Schultz : 5 on 8/29/2023 8:24 pm
Great pizza served fast - Ocean City MD boardwalk pizza. We look forward to this every year during our family vacation.
Gregory Schultz
1693340680
Pizza Boy
Michael Yacko : 3 on 7/22/2023 7:06 pm
Overall, not a great slice of pizza. No taste to either sauce or dough. Cheese is the only flavor. Pizza was too stiff on the bottom. One slice plus a drink just under $10, not worth it.
Michael Yacko
1690052790
Pizza Boy