Park Place Hotel
Open Now 12:00 am - 11:59 pm
Sunday

12:00 am - 11:59 pm

Monday

12:00 am - 11:59 pm

Tuesday

12:00 am - 11:59 pm

Wednesday

12:00 am - 11:59 pm

Thursday

12:00 am - 11:59 pm

Friday

12:00 am - 11:59 pm

Saturday

12:00 am - 11:59 pm
For over 120 years the Conner family has been in resort hospitality in Ocean City, Maryland. This generation proudly offers a deluxe, full-service Boardwalk Hotel with a great view of Ocean and Bay. Park Place Hotel overlooks clean, well guarded, wide beaches and the fun-packed waves of the Atlantic. Best of all, the amusements are only a few blocks away.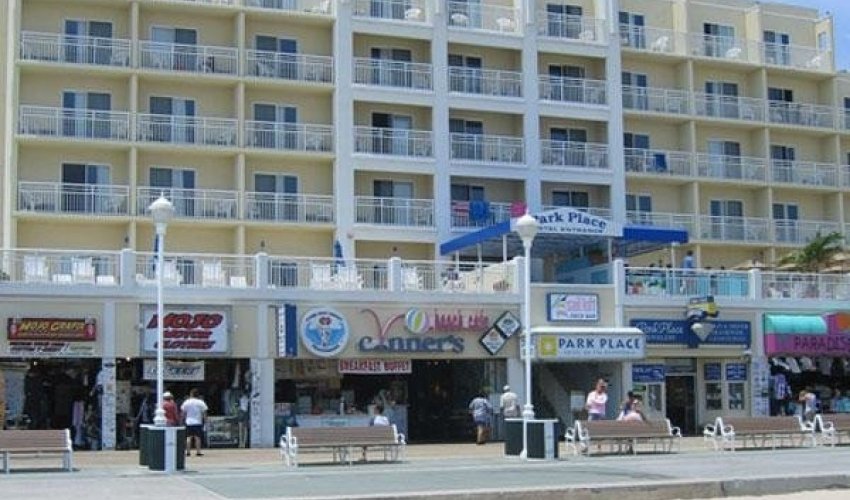 Mike Walbert : 5 on 6/25/2023 8:06 pm
We did not expect this place to be as great as it was. It's extremely clean inside the lobby, halls and rooms, as well as the pool and deck areas. The staff is very friendly and helpful in a genuine way. We had oceanfront balcony, which was perfect for people watching on the boardwalk. The tiki bar is a nice touch to have for breakfast, lunch, dinner or a drink or two. It wasn't really bumping at the bar, but it was nice to have that option. The pools are good on the back end of the building. We are already talking about returning.
Mike Walbert
1687723566
Park Place Hotel
Christine D : 5 on 7/14/2023 2:11 am
We always stayed somewhere else but took the chance to stay somewhere new and this hotel was great. The location was great and right in the middle of the boardwalk. We had a balcony room on the 7th floor and really enjoyed watching the people on the boardwalk. The rooms were nice and clean and they will clean your room daily if you want. We chose not to have a daily cleaning but Flora, who cleaned our floor, was really great and swapped out our towels every morning for fresh ones and checked in when she saw us to see if we needed anything. Only downside was the boardwalk entrance to the hotel closed at 10 so you have to walk around to the other side of the building to get in but it wasn't too bad. I would recommend this hotel and def stay there again!
Christine D
1689300673
Park Place Hotel
Ebada Ziada : 5 on 8/27/2023 5:55 pm
Loved everything about Park Place Hotel.
The location was the best part about our stay. It was a walking distance to Ripley's believe it or not, The Mirror Maze, Jolly Roger's amusement park, Dunkin' Donuts, The Dough Roller, Bike rentals and much more. We got the ocean view room and that had a full view of the ocean and still felt we had privacy. The boardwalk was a few steps from the lobby and just perfect if you need to go to the room several times during the day.
Ebada Ziada
1693158944
Park Place Hotel