Ocean's Mist
10:30 am - 5:00 pm
Sunday

10:30 am - 5:00 pm

Monday

10:30 am - 5:00 pm

Tuesday

10:30 am - 5:00 pm

Wednesday

10:30 am - 5:00 pm

Thursday

10:30 am - 5:00 pm

Friday

10:30 am - 5:00 pm

Saturday

10:30 am - 5:00 pm
Jewelry, knives and accessories.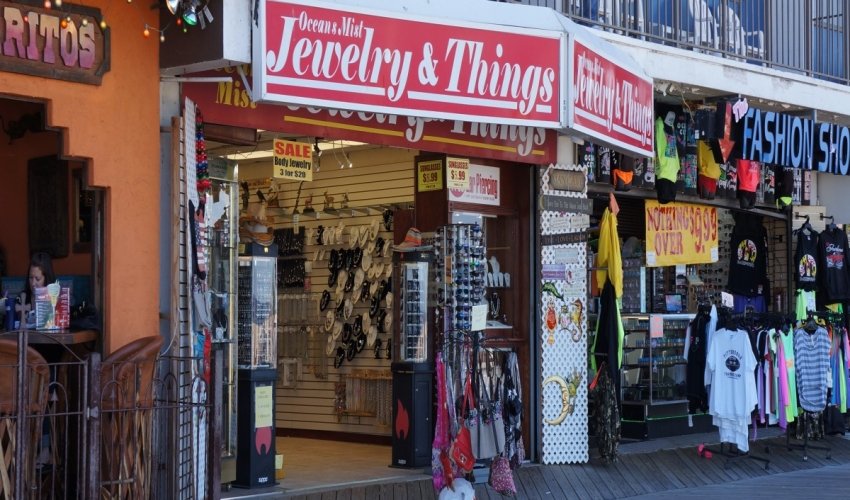 Raj S : 3 on 9/14/2023 12:23 am
Was walking in boardwalk and bumped to this shop. They had good collection of bags but was a bit expensive . They also had a lot of jewelry , but couldn't buy .. either too pricey or not that good. . Service was ok. Billing also loooked considerably quick . 👍👍
Raj S
1694651009
Ocean's Mist
Ms. M B : 4 on 4/28/2023 1:59 pm
So I would go here for a belly ring, or a piece of jewelry that I'd be wearing at the pool, or on the beach. It's not that the quality is bad, it's just not high end jewelry. Anklets, rings, belly rings, eyebrow rings. This shop can meet you're jewelry needs for sure. I recommend stopping in and browsing through the shop.
Ms. M B
1682690342
Ocean's Mist
Reecee Gasaway : 2 on 6/14/2023 10:44 pm
Cute jewelry 4 stars. employee/owner & customer service minus 10 stars
Reecee Gasaway
1686782675
Ocean's Mist