Ocean Terrace Apartments
Opens at 9:00 am 9:00 am - 5:00 pm
Sunday

9:00 am - 5:00 pm

Monday

9:00 am - 5:00 pm

Tuesday

9:00 am - 5:00 pm

Wednesday

9:00 am - 5:00 pm

Thursday

9:00 am - 5:00 pm

Friday

9:00 am - 5:00 pm

Saturday

9:00 am - 5:00 pm
If you're looking for a place to stay that is right in the heart of the summer fun, look no further than Ocean Terrace Apartments!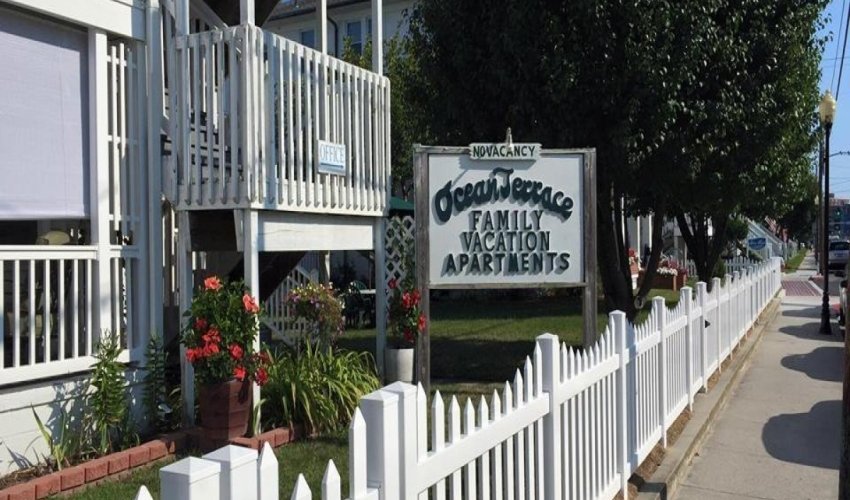 $$$
Recent Reviews
TripAdvisor Traveler Rating
5
Ocean Terrace Apartments
20
#6 of 50 Specialty lodging in Ocean City
A family tradition
My husband found Ocean Terrace Apts several years ago while searching for a family sized place to stay close to the boardwalk. We have stayed no where else since. This is the perfect place to bring...
V7795PCsusanb
2017-10-12 17:32:59
Ocean Terrace Apartments
Perfect for groups
We stayed in this hotel for Memorial Day weekend. Decor is very old-fashioned, but the apartments had everything we needed. We rented 3 apartments for our large group, and it was great. Beds were...
Carmen181
2018-07-06 08:49:08
Ocean Terrace Apartments
Another great family vaca!
We stay here every year and every year we have a great stay! The owners are on site and are the best! They treat you like family. Clean apts, great fenced in courtyard for kids to run, and close to...
mdunio
2018-07-22 09:01:55
Ocean Terrace Apartments