Ocean City Painting Experience (T.C. Studios)
12:00 am - 11:59 pm
Sunday

12:00 am - 11:59 pm

Monday

12:00 am - 11:59 pm

Tuesday

12:00 am - 11:59 pm

Wednesday

12:00 am - 11:59 pm

Thursday

12:00 am - 11:59 pm

Friday

12:00 am - 11:59 pm

Saturday

12:00 am - 11:59 pm
Get ready to PAINT!
EXPERIENCE Ocean City's Ultimate Souvenir! Voted one of MD's best Paint Party entertainment studios, this family owned and operated event studio is a must-try during your vacation, year round. Specializing in step-by-step painting events right on 15th st, the OC Painting Experience Studio offers an array of surfaces to paint on, like pallets, canvas, glassware and more, as well as a whole gallery of designs to choose from, so there is no shortage of creative fun for everyone!
Create more than just memories
The award-winning OC Painting Experience Studio opened in 2016 and has developed into one of OC's most unique souvenir experiences, as well as a tradition for many families & groups of all kinds!
Similar to what you may know as "paint night" or "paint with a twist", each Painting Experience consists of ~2 hours with a professional & fun instructor leading you and/or your group through a painting, step-by-step, in a musical atmosphere. Your instructor / Creative Coach, will sketch out your design & lead you every step of the way through creating your OC masterpiece. No artistic ability is required! Anyone can do it.
Tickets are purchased on our event booking website, and events are offered year round. It's the perfect activity for bachelorette parties, family reunions, birthday parties, anniversaries, kids, girls' weekends, or celebrating anything!
Features include Pick your Painting (your choice of surface: canvas, wooden pallet, glassware, crab basket lid painting, etc. and design), as well as Paint your Pet's Portrait, Kid's Paint, Family Night, and more!
What to do:
Go to tcstudios.org
Find an event that works for your schedule
Purchase your tickets & receive confirmation email
Show up for an unforgettable experience!
Location: 1505 Philadelphia Ave, OCMD 21842
Hours of Operation: Year Round, based on event schedule
Event Calendar & Tickets: tcstudios.org
Contact: 443-248-4273 / tcstudios11@aol.com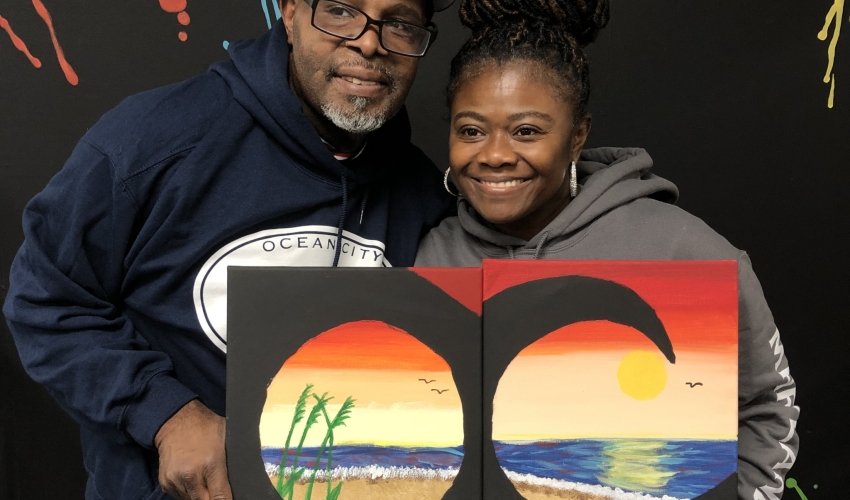 Recent Reviews
TripAdvisor Traveler Rating
5
Ocean City Painting Experience (T.C. Studios)
5
#2 of 3 Classes & Workshops in Ocean City
Fun!
Great way to spend a couple of hours doing something creative. We had a lot of fun. Alex and Jamie put on a great program—awesome painting instruction and movitating music. On top of that, they are...
Janet H
2018-07-03 06:02:09
Ocean City Painting Experience (T.C. Studios)
Creative & Fun!
I'm by no means an artist but my painting came out great! My boyfriend booked this experience while we visited & we could not have enjoyed it more. The hardest part was picking out a painting to...
Jackie G
2019-06-29 15:59:34
Ocean City Painting Experience (T.C. Studios)
Wonderful family fun
The staff are warm and inviting from the moment you enter. Allie is a patient and skilled teacher who guides you through the process of creating your own painting while reminding you to just relax...
Jaime B
2019-07-23 17:24:00
Ocean City Painting Experience (T.C. Studios)