Ocean City Life-Saving Museum
10:00 am - 5:00 pm
Monday

10:00 am - 5:00 pm

Tuesday

10:00 am - 5:00 pm

Wednesday

10:00 am - 5:00 pm

Thursday

10:00 am - 5:00 pm

Friday

10:00 am - 5:00 pm

Saturday

10:00 am - 5:00 pm

Sunday

10:00 am - 5:00 pm
While visiting our website you can take some time to reminisce with our Ocean City Memories or let yourself travel back through time to join the heroic Surfmen of the US Life-Saving Service on a rescue mission. Preview some of our exhibits or look up family history in our genealogy section.
When in Ocean City, Maryland join us by taking a tour of the Life-Saving Station Museum. You'll find captivating exhibits featuring the history of the U.S. Life-Saving Service and Ocean City History. Other displays include; "Surfs Up! - Riding the Waves of Change", "The Boardwalk of Yesterday", "Sands of the World", and much more.  Aquariums featuring local marine life are a favorite for young and old alike. There is something here for everyone. The meticulously restored building that was once scheduled for demolition, is now a monument to Ocean City History.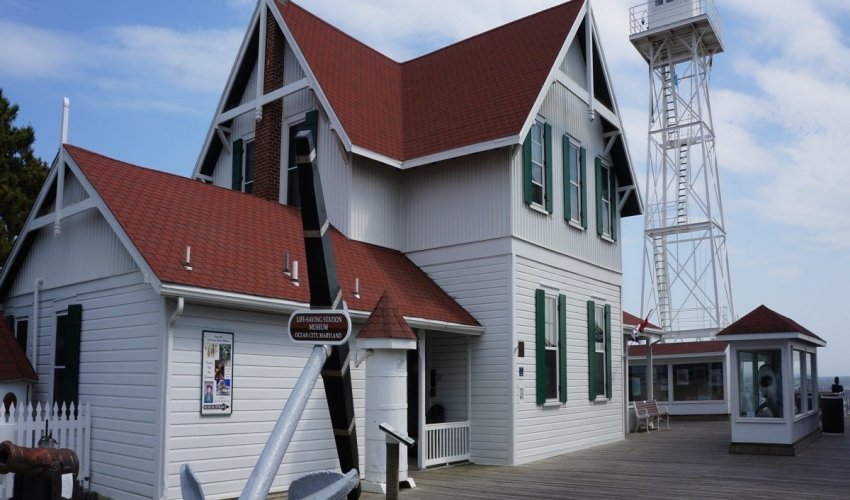 Recent Reviews
TripAdvisor Traveler Rating
5
Ocean City Life-Saving Museum
362
#2 of 28 things to do in Ocean City
Small informative cute
Gentleman at desk enjoys sharing history of museum, area surrounding museum and sea life. He was informative and charming
Sitrena
2022-04-14 03:47:24
Ocean City Life-Saving Museum
Interesting place
Very informative about the history but the scavenger hunt was the best for my 4-year old. She had a great time running around looking for Sherlock the Shark.
T N
2022-06-18 13:24:53
Ocean City Life-Saving Museum
Great Little Museum
This was a very cute, but informative museum that we visited on our way to leave the Boardwalk for the day. The man at the desk was super helpful, and if we had more time he definitely would have...
138alp
2022-09-24 17:22:04
Ocean City Life-Saving Museum