OC Rocket Speedboat
8:30 am - 5:30 pm
Sunday

8:30 am - 5:00 pm

Monday

8:30 am - 5:30 pm

Tuesday

8:30 am - 5:30 pm

Wednesday

8:30 am - 5:30 pm

Thursday

8:30 am - 5:30 pm

Friday

8:30 am - 5:30 pm

Saturday

8:30 am - 5:00 pm
Hold on to your hat as we cruise down the ocean!
Sit back and relax as we take you on the fastest cruise in Ocean City. Enjoy the scenery of fishing boats, the skyline, the beach and watch the Dolphins play on our accelerated fun ship.
We have a brand new clean boat for you to enjoy, comfortable seats and life jackets so you'll be secure and a professional and trianed crew at the ready to answer any questions and help in any way they can.
Located at the Talbot Street Pier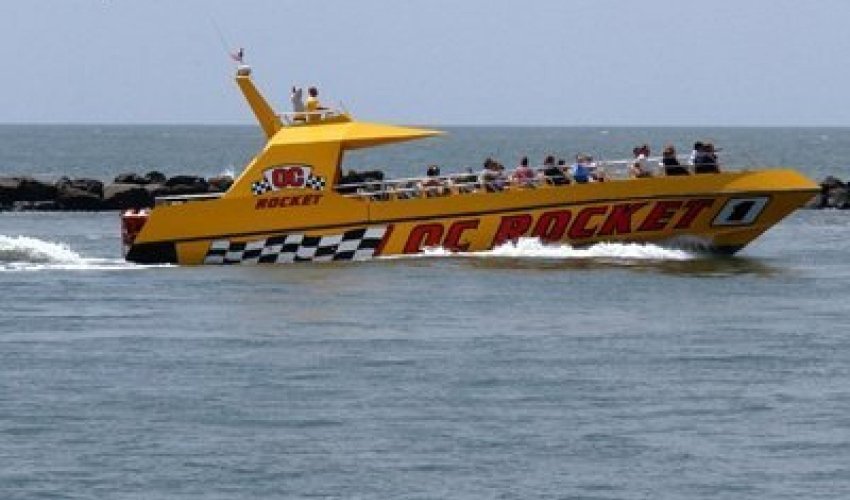 LBomb369 : 3 on 8/16/2023 11:27 pm
Really wasn't anything impressive. Basically a boat ride up and down the coast with a 3 minute "thrill ride" on the way back. The Captain doesn't explain or give any information about anything you pass. Which is a shame because they have some sights like the Coast Guard, etc.
Nothing to write home about. I've been on these speedboat tours in NJ and they at least talk you up the whole time giving you information. At least it was a nice day. But I wouldn't likely do it again in favor of finding a more interesting ride.
LBomb369
1692228457
OC Rocket Speedboat
Lucero Navarro : 5 on 7/2/2023 2:53 pm
First time on the OC Rocket and we very much enjoyed the experience. Of course it was rocky going out, but all excitement! Great experience for the family and friends - promise it will be pure laughter!
Lucero Navarro
1688309615
OC Rocket Speedboat
Allan Lebak : 5 on 9/5/2023 12:06 pm
Always a great ride. Our family enjoys riding the Rocket when we come to OCMD. Just long enough of a ride ( about 50 minutes) Got to see a few groups of Bottlenose Dolphins too. A few of our group got wet from the boat spray. Always fun and enjoyable. We found discount coupons that made it even more affordable. Definitely recommend
Allan Lebak
1693915594
OC Rocket Speedboat