OC Rocket Speedboat
Opens at 8:30 am 8:30 am - 5:30 pm
Sunday

8:30 am - 5:00 pm

Monday

8:30 am - 5:30 pm

Tuesday

8:30 am - 5:30 pm

Wednesday

8:30 am - 5:30 pm

Thursday

8:30 am - 5:30 pm

Friday

8:30 am - 5:30 pm

Saturday

8:30 am - 5:00 pm
Hold on to your hat as we cruise down the ocean!
Sit back and relax as we take you on the fastest cruise in Ocean City. Enjoy the scenery of fishing boats, the skyline, the beach and watch the Dolphins play on our accelerated fun ship.
We have a brand new clean boat for you to enjoy, comfortable seats and life jackets so you'll be secure and a professional and trianed crew at the ready to answer any questions and help in any way they can.
Located at the Talbot Street Pier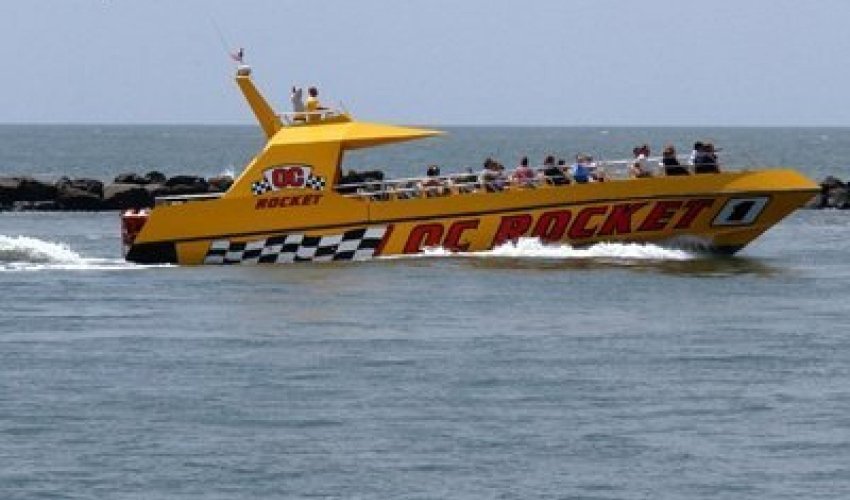 Recent Reviews
TripAdvisor Traveler Rating
5
OC Rocket Speedboat
151
#16 of 51 Boat Tours & Water Sports in Ocean City
Lots of laughs!
It was exactly as was advertised and more. We went fully prepared to get wet and the captain didn't disappoint! We were also lucky and got to see a lot of dolphins playing in the water.
Ahazenstab
2022-08-24 16:54:10
OC Rocket Speedboat
Loved it
AMAZING! Definitely highlight of my trip! If you don't want to get wet take a raincoat or don't get on! I never laughed so much and the staff goes out their way for passengers to get dolphin pics! A...
DianaPB31679
2022-08-26 17:15:41
OC Rocket Speedboat
Fun
It was a lot of fun. I was afraid at first but once got started had a good time. It does go fast and you do get wet the captain did tell us when we got on.
Melissa E
2022-10-15 06:34:37
OC Rocket Speedboat