OC Bay Hopper
8:00 am - 8:00 pm
Sunday

8:00 am - 8:00 pm

Monday

8:00 am - 8:00 pm

Tuesday

8:00 am - 8:00 pm

Wednesday

8:00 am - 8:00 pm

Thursday

8:00 am - 8:00 pm

Friday

8:00 am - 8:00 pm

Saturday

8:00 am - 8:00 pm
Get around Ocean City without traffic or finding parking, travel by water aboard the OC Bay Hopper!   Hope on the shuttle service for a private charter, a family crabbing, clamming or fishing experience, Assateague Island Boat Tour, sunset cruise, an ice cream cruise or The Ocean City "Foodie" Tour.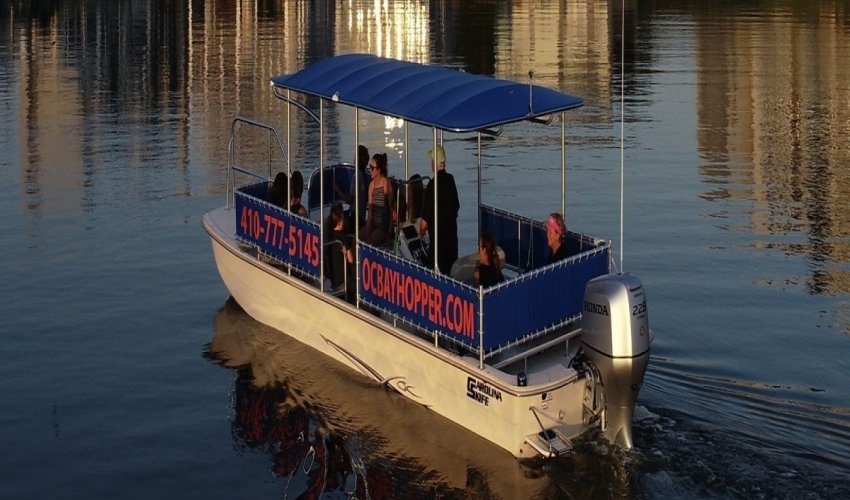 Veena Choudary : 5 on 8/6/2023 11:06 pm
Very easy to book online. They send you alerts ahead of time as well. Organized well. Easy to find the launch points.

We went on the ice cream cruise. :) With Captain Steve and Andre who were wonderful. Captain Steve made us feel very safe and Andre was very courteous and attentive with his scooping and clean up. :)
The ice cream cruise was a ton of fun- the flavors were wonderful and the ice cream delicious. :) the ride out was very gentle and we picked up some speed on the way back but nothing that would bother anyone. Very family friendly, kid friendly. The boats are spacious and well maintained. The kiosk at Food Lion was clean with a bathroom. Highly recommend showing up on time as they do leave right on schedule. Very, very impressed with our experience - Thank you Captain Steve and Andre. :) Happy Birthday Andre! :)

We had also booked the sunset cruise for Friday evening. It had rained all day- a light but annoying drizzle. They called us promptly to let us know that the cruise was cancelled for the day, offered to refund or rebook us for Saturday and took care of all of this in less than 30 seconds on the phone.
We went on the cruise on Saturday. They sent a text message and then called about an hour before to remind us. The captain was ready on time. The boat was packed. We had Captain John and he was wonderful, very friendly, polite, made interesting conversation with everyone aboard, took pictures and shared many stories about the area. The sunset cruise was a gentle ride all the way around the bay and back. The sky was a little cloudy and so even though we didn't have as good views of the setting sun as others have posted, it was a fun experience. I would highly recommend it. A large group rode with us and brought beverages and snacks making it a wonderful party for all. A great way to enjoy an evening in Ocean City. :) Again- OC Bay Hopper made sure that the experience was smooth and enjoyable. :)
Veena Choudary
1691363198
OC Bay Hopper
JEM : 5 on 6/17/2023 9:02 pm
My daughter took me on a morning cruise to Assateague Island for Father's Day. We had a great time! Captain Steve was great! He gave us some great info about the wildlife and history of Ocean City. We saw a group of wild horses with 2 babies and some loner's. Steve navigated the boat closer to the shore to allow us to get some great pictures. Beautiful day on the bay. I would highly recommend taking this cruise!!!
JEM
1687035721
OC Bay Hopper
Tytiana Johnson : 5 on 10/19/2023 11:45 pm
Wow what an Amazing peaceful boat ride! Dennis was an amazinggggg tour guide! and took us to the perfect spot right on time to see the sunset, OC skyline and the lovely beach houses and bar/restaurants to visit! 10/10 recommend to tour the waters with OC Bay Hopper!
Tytiana Johnson
1697759153
OC Bay Hopper