Nick's Beach Ball Golf
Open Now 10:00 am - 10:00 pm
Sunday

10:00 am - 10:00 pm

Monday

10:00 am - 10:00 pm

Tuesday

10:00 am - 10:00 pm

Wednesday

10:00 am - 10:00 pm

Thursday

10:00 am - 10:00 pm

Friday

10:00 am - 10:00 pm

Saturday

10:00 am - 10:00 pm
The newest addition to Nick's Mini Golf is here! An entirely beach themed golf course awaits you at Nick's Beach Ball Golf. Fun for the whole family!
Visit Nick's other great Ocean City Golf locations for even more summer fun!
18th Street - Jurassic Golf
57th Street - Maui Golf
125th Street - Dino Golf
146th Street - Golf Down Under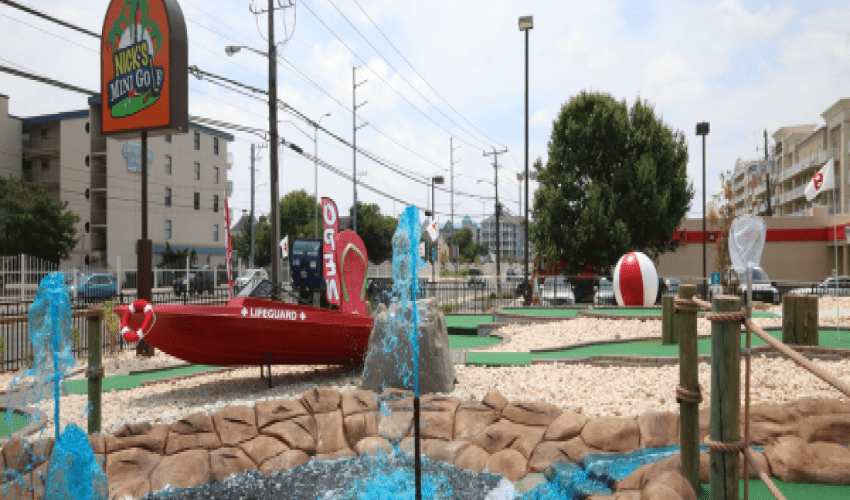 Doug : 5 on 8/12/2023 7:24 pm
Fun course! Out of all of the Nick's this one could use some TLC but it's still a great, semi-challenging course with some cool built in fountains and scenery. The course wasn't as difficult as some others in the area but the flip side is it makes it easier to get through all 18 without traffic jams.
Doug
1691868295
Nick's Beach Ball Golf
Kaitlyn Girton : 5 on 8/3/2023 1:58 pm
Great experience! Very clean, everything looked brand new, and the woman working was very kind and friendly. They closed at 11:00pm and the woman let us stay to finish out our game despite it being past 11:00!
Kaitlyn Girton
1691071081
Nick's Beach Ball Golf
Deb Clif : 5 on 7/27/2022 12:48 am
Great mini golf place for all ages. It was walking distance from our hotel, next to ice cream and smoothies so it was a win win situation fir us. Unfortunately I didn't actually win, but we had lots of fun. Not super challenging but that's what made it fun for the whole family. No one was losing by a lot so it was super competitive! Great job!
Deb Clif
1658882924
Nick's Beach Ball Golf