Monte Carlo Boardwalk
Open Now 12:00 am - 11:59 pm
Sunday

12:00 am - 11:59 pm

Monday

12:00 am - 11:59 pm

Tuesday

12:00 am - 11:59 pm

Wednesday

12:00 am - 11:59 pm

Thursday

12:00 am - 11:59 pm

Friday

12:00 am - 11:59 pm

Saturday

12:00 am - 11:59 pm
The Monte Carlo Oceanfront is Ocean City Maryland's newest Oceanfront hotel centrally located along the Town's iconic boardwalk. Boasting 54 luxurious guest rooms, most with full kitchens, the hotel offers and indoor pool and hot tub and scenic rooftop pool. Guests will enjoy easy access to an array of culinary experiences, entertainment galore and one of the nation's top beaches right outside their door.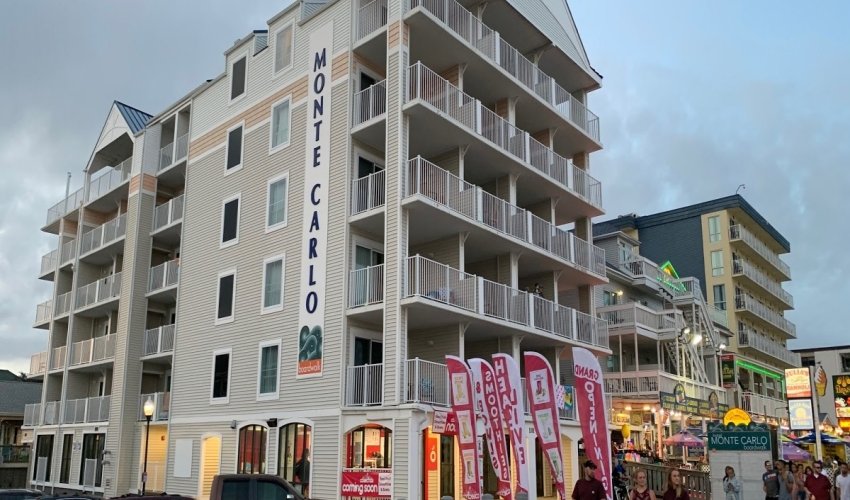 $$$$
Recent Reviews
TripAdvisor Traveler Rating
4
Monte Carlo Boardwalk
210
#48 of 117 hotels in Ocean City
Relaxing Time Away!
Location! Location! The location of this hotel is perfect! We had an Ocean Front room and it was so peaceful. We slept with the balcony door open the entire time to listen to the waves crashing! The...
laquanda s
2022-11-13 09:06:25
Monte Carlo Boardwalk
Excellent Customer Service!
Ana & Lindsey were very friendly and made our stay very comfortable. They greeted us with a smile every time at the desk. The rooms were also very clean and cozy! My little one enjoyed every minute...
Shakenya D
2022-11-26 06:32:56
Monte Carlo Boardwalk
Great place
My husband sleeps the best there because of the pillows. And we love listening to the ocean all night and awesome view of the sunrise 🌅 . All the staff there is so courteous and remember us whenever...
Road46871608910
2022-11-29 08:24:54
Monte Carlo Boardwalk