Majestic Hotel
Please call for hours
The Majestic Hotel is centrally located on the boardwalk at Seventh Street, directly facing the beautiful Atlantic Ocean. We are conveniently located next to several shops, arcades, rides, restaurants and churches.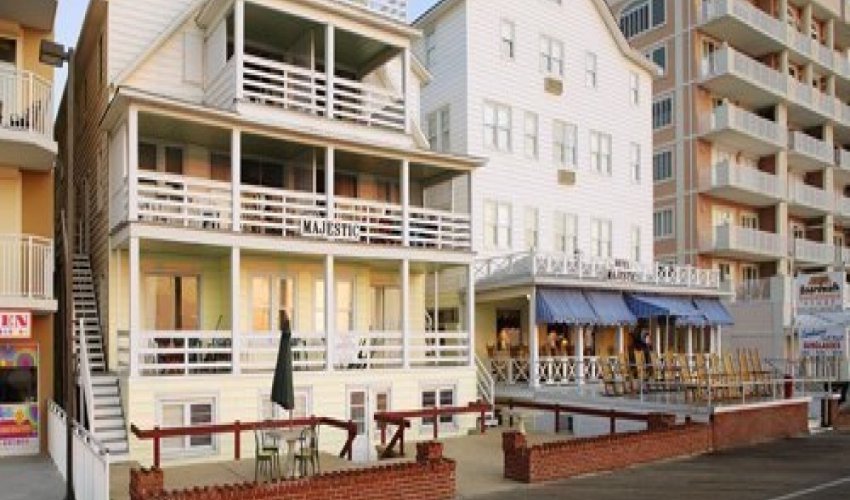 Amanda Harding : 2 on 8/7/2023 2:45 am
The good: Front desk staff was nice. Location was perfect. Pool area was nice (no towels). Pretty clean hotel. No bugs. Porch was great to sit on. Bed was cozy. Air worked great.

The bad:
$240 a night was super crazy....we stayed on the 3rd floor, the room had a soft spot in the floor next to the bed, next to the air unit. We were expecting it to look dated, but a little up keep would make it so much better (water spots, walls falling apart, chipped paint everywhere). No early check in, super small parking area (be prepared to pay to park if the lot is full). Bring your own bedding unless you want to sleep with vintage blankets.
Amanda Harding
1691376314
Majestic Hotel
robert thomas : 1 on 10/17/2023 7:24 pm
Location is fantastic, right on the boardwalk. And That is literally the only good thing about this place. We Check in on a thursday night After waiting 45 minutes for someone to come to the front desk.
We then proceed to our room and within 30 minutes. Realize the filth and the smell was overcoming stains everywhere looks like Bloodstains on the floor the furniture was so stained, No way was I sitting on it This place is unfit to be rented and should be taken off the market
robert thomas
1697570654
Majestic Hotel
Lee White : 2 on 8/28/2023 6:57 pm
If you are a college kid on a budget, want to be on the boardwalk and just want a place to close your eyes for a few hours a night, this is the place for you. The staff was friendly and the location is phenomenal. Don't expect safety, cleanliness, or any amenities/luxuries post the 1970's. The doors are flat panel, hollow core with no lock or safety other than the handle. It is noisy, smelly, and falling apart. The bed had a piece of lumber holding it up, carpet is torn, walls and ceilings are stained, furniture and bedding are probably from original opening. I took a loss on the first night and received a refund for the second night and relocated to a better hotel that was worth every penny.
Lee White
1693249064
Majestic Hotel