King Charles Hotel
8:00 am - 10:00 pm
Sunday

8:00 am - 10:00 pm

Monday

8:00 am - 10:00 pm

Tuesday

8:00 am - 10:00 pm

Wednesday

8:00 am - 10:00 pm

Thursday

8:00 am - 10:00 pm

Friday

8:00 am - 10:00 pm

Saturday

8:00 am - 10:00 pm
The King Charles Hotel invites you to relax and enjoy your summer vacation in our clean, comfortable and friendly hotel. Our convenient downtown location is one half-block from the beach in the middle of Ocean City's famous Boardwalk. Charming and affordable, the King Charles Hotel is within walking distance of Ocean City's amusements, many fine restaurants, and other attractions.
Whether you are enjoying the morning sun, coffee, or tea from wicker chairs on the front porch, or enjoying casual evening conversation in the home style lobby, our friendly hospitality will make you think you've stepped back in time.
Each of our modest 22 rooms is equipped with cable TV, wireless internet access, an apartment-size refrigerator, microwave, air-conditioning, phone, and private bath. Complimentary coffee and tea is available in the hotel lobby. Our goal at the King Charles Hotel is to make your summer vacation so enjoyable you'll want to visit again next year.
The town of Ocean City has a variety of hotels offering amenities to meet everyone's needs. Families and couples will find our quiet, clean, and comfortable hotel ideally suited to their needs. We endeavor to maintain a quiet and relaxing nighttime atmosphere so you wake up refreshed and ready for more of Ocean City's beach and sun!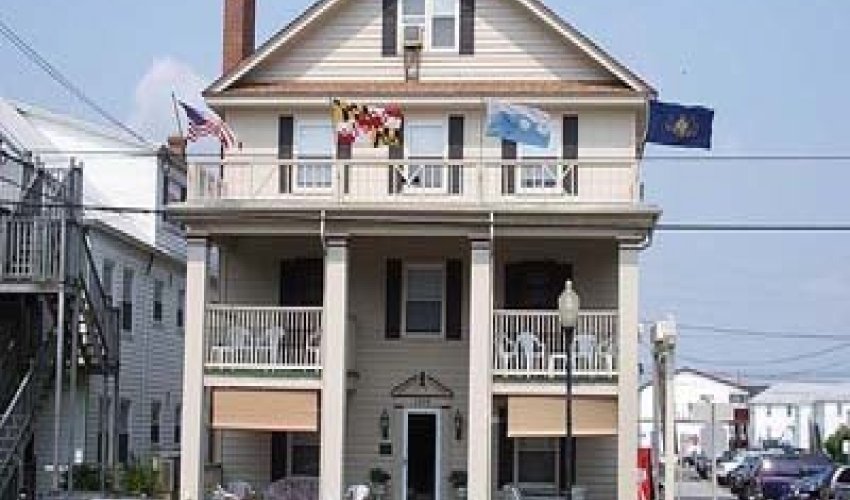 $$
Recent Reviews
TripAdvisor Traveler Rating
5
King Charles Hotel
96
#3 of 21 B&Bs / Inns in Ocean City
Comfy
Rooms are reasonable to be a block from the beach.Always clean and owner is very pleasant.Rooms are small however with no kitchen and one dining table near beds.Front porch makes you feel very much...
ralph r
2019-08-07 18:59:32
King Charles Hotel
Great place to stay
We recently just stayed here and let me tell you I loved it here! The feel of the hotel was quite homey (the best sleep I've gotten on trips), parking is in the back of the hotel (a little cramped...
127starrb
2019-08-14 12:18:31
King Charles Hotel
Pleasantly surprised, definitely worth staying here.
We were in a pinch to find a place and found the King Charles at the last minute. Yes, we were concerned. We were incredibly surprised and happy with this place and the staff. The room was good, the...
Jay & Karen C
2019-08-16 16:58:37
King Charles Hotel