Judith M Fishing
5:00 am - 7:00 pm
Sunday

5:00 am - 7:00 pm

Monday

5:00 am - 7:00 pm

Tuesday

5:00 am - 7:00 pm

Wednesday

5:00 am - 7:00 pm

Thursday

5:00 am - 7:00 pm

Friday

5:00 am - 7:00 pm

Saturday

5:00 am - 7:00 pm
The Judith M; now a 60' DMR;  fishes for many species including black sea bass, flounder, tautog, jacks, blue-fish, triggerfish, croaker and more!  We fish the wrecks and reefs off of the Delmarva coast.  Our fishing trips run from 8:00am until 1:30pm. We also offer an afternoon dolphin and whale watching cruise.  
Sit back and relax as we cruise the Atlantic looking for dolphins, whales, turtles and other wildlife. We'll also stop along the way to drop down our state of the art cameras so you can see Ocean City's reefs and wrecks live on our big screen TV's. We have a nightly sunset cruise through the bay and into the ocean from 7:30 until 9:30pm.  We are also available for private charters. 
The Judith M has a clean, spacious cabin that features plenty of cushioned seating and a big screen TV. The boat also has a snack bar serving food, snacks, soda, candy, coffee, beer, wine, liquor and more.  
The Judith M is docked at Bahia Marina on 22nd Street, right next to Fish Tales Bar and Grill!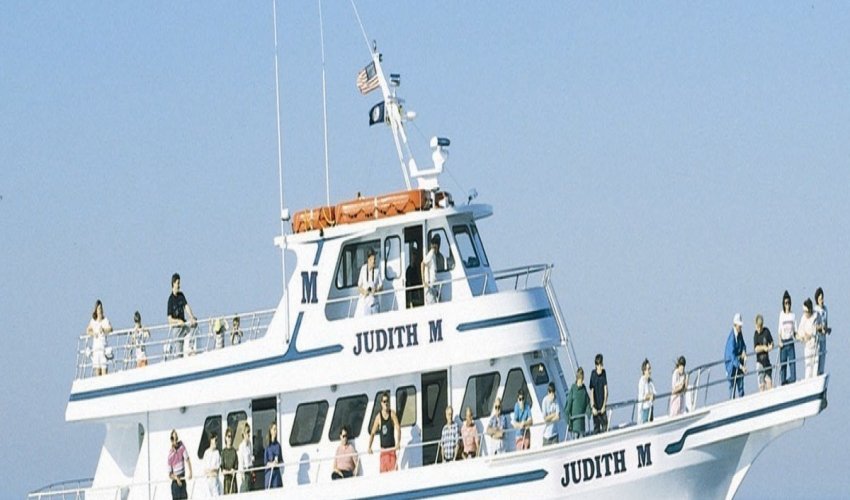 Carol Waugh : 5 on 7/18/2023 11:24 am
I can't speak highly enough of our family experience on the 8 hour deep sea fishing trip. The Captain and first mate Travis were the best. Very friendly and extremely helpful especially with my 7 year old son aka Junior. We kept hooking fishing every time we put our lines in the water. Overall taking home 16 Black Sea bass. Will definitely be booking all future trips with the Judith M. Thanks again for a wonderful experience!

Carol
Carol Waugh
1689679474
Judith M Fishing
Summer Palm : 5 on 7/15/2023 1:30 am
Such an amazing hidden gem! My husband and i go every year for the evening sunset cruise and it's all we look forward to! Travis was so kind to take our picture and go above and beyond to make sure we got the perfect pic. The bartender (blonde not sure of her name!) made us the perfect drinks AND took the time to find us merch to take home! Prices are amazing for not only the cruise but fishing trips too. Cant wait to return next Summer!
Summer Palm
1689384643
Judith M Fishing
Karxan Cao : 5 on 6/23/2023 3:24 am
One of the best most affordable activity in ocean city md. We came across this spot in fish tale and we booked it on a whim. They had a live band and it was an hour and a half sunset boat ride with drinks on board. The drinks were great and inexpensive and it was overall such a great vibe! I celebrated my birthday on this cruise alone with 2 others. Super nice and so worth it. I will be coming back
Karxan Cao
1687490686
Judith M Fishing