Judith M Fishing
5:00 am - 7:00 pm
Sunday

5:00 am - 7:00 pm

Monday

5:00 am - 7:00 pm

Tuesday

5:00 am - 7:00 pm

Wednesday

5:00 am - 7:00 pm

Thursday

5:00 am - 7:00 pm

Friday

5:00 am - 7:00 pm

Saturday

5:00 am - 7:00 pm
The Judith M; now a 60' DMR; fishes for many species including black sea bass, flounder, tautog, jacks, blue-fish, triggerfish, croaker and more! We fish the wrecks and reefs off of the Delmarva coast. Our fishing trips run from 8:00am until 1:30pm. We also offer an afternoon dolphin and whale watching cruise.
Sit back and relax as we cruise the Atlantic looking for dolphins, whales, turtles and other wildlife. We'll also stop along the way to drop down our state of the art cameras so you can see Ocean City's reefs and wrecks live on our big screen TV's. We have a nightly sunset cruise through the bay and into the ocean from 7:30 until 9:30pm. We are also available for private charters.
The Judith M has a clean, spacious cabin that features plenty of cushioned seating and a big screen TV. The boat also has a snack bar serving food, snacks, soda, candy, coffee, beer, wine, liquor and more.
The Judith M is docked at Bahia Marina on 22nd Street, right next to Fish Tales Bar and Grill!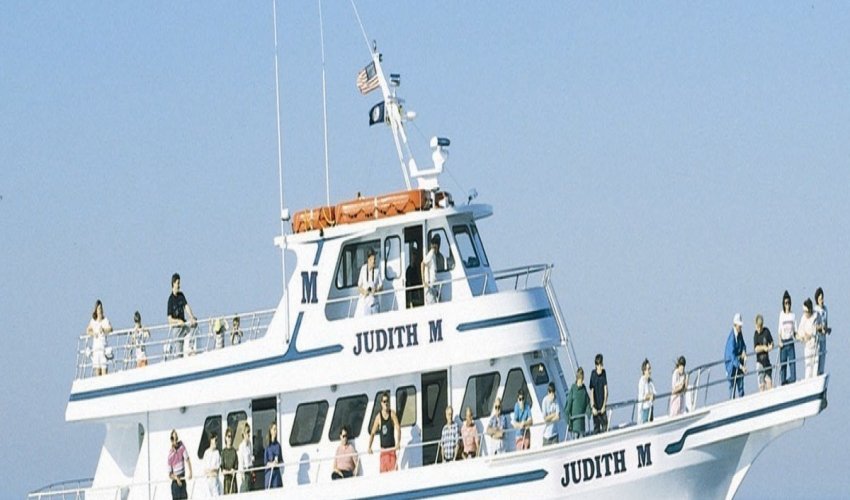 Recent Reviews
TripAdvisor Traveler Rating
4
Judith M Fishing
54
#37 of 50 Boat Tours & Water Sports in Ocean City
Excellent service. Nature decides what you catch.
My kids and I have taken many trips on the Judith M. It's one of the things we look forward to when we visit Ocean City every year. I can't speak for hardcore fisherfolk, but for casual types like...
fax4voice3
2018-09-05 08:42:12
Judith M Fishing
Rough Waters, not a great fishing trip experience
We went on the 8 am cruise today. Their website didn't mention the hour out drive to a destination and a very bumpy journey. If you are prone to sea sickness or as a precaution I recommended...
karma84488
2019-08-19 04:13:50
Judith M Fishing
Horrible fishing trip
I would recommend trying another company if you want to go fishing in OC. Took the 8am fishing trip out of Fish Tails Marina. I understand everyone has good and bad fishing days but the captain...
eshudacko
2019-08-24 05:31:11
Judith M Fishing