Jolly Roger at the Pier
Open Now 1:00 pm - 11:00 pm
Sunday

12:00 pm - 11:00 pm

Monday

1:00 pm - 11:00 pm

Tuesday

1:00 pm - 11:00 pm

Wednesday

1:00 pm - 11:00 pm

Thursday

1:00 pm - 11:00 pm

Friday

12:00 pm - 11:00 pm

Saturday

12:00 pm - 11:00 pm
The pier is a staple on the agenda of anyone visiting Ocean City. From the aroma of Thrasher's® French Fries to the sounds of joy coming from the Two Level Carousel, the pier is the place to be. Take a plunge on Slingshot or relax and enjoy the Ocean City skyline from the tallest Ferris Wheel in OC. The choice is yours and the pier has got it all. If fast and furious is what you want, then try out the Crazy Dance, the Looping Coaster and everyone's favorite, The Hurricane. If rides are not your thing the pier has plenty of Games, Food and Shops to pass your time with. 
Don't forget to stop by our other great parks at 30th Street:
Splash Mountain
Jungle and Treasure Hunt Mini Golf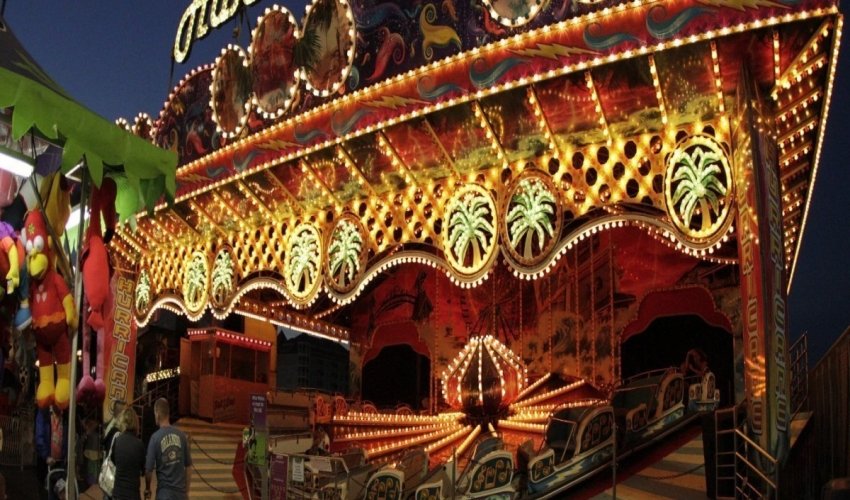 Harshit Mahajan : 4 on 6/18/2023 11:01 pm
Had amazing fun there yesterday! Took me back to my childhood days! Got an evening pass for $35 which allowed us to almost unlimited rides in the park. One thing to keep
in mind is the unlimited pass only allows you to enjoy the rides. The slingshot ride and other activities like bursting balloons, etc are separately chargeable.
We enjoyed Kraken - and there is a story to ride. The Ferris wheel gives you amazing views of the boardwalk and the Atlantic Ocean from a height. The hurricane and roller coaster are surely gonna get you the adrenaline rush!
Harshit Mahajan
1687129268
Jolly Roger at the Pier
Raj S : 3 on 8/23/2023 12:32 am
There are few amusement parks in ocean city but this one was pretty close to boardwalk. We came here just for the slingshot but my kids started to play all games . We spent about 150$ for 300 points which was very very expensive . 300 points goes away within 15-30 mins . Games are good but tooooo expensive . Will never go back for the pricing they have . Customer service isn't that good . My kids liked the slingshot though. Should have just finished that and walked away .
Raj S
1692750771
Jolly Roger at the Pier
Savannah Perry : 4 on 7/7/2023 1:42 pm
We paid $37 (with tax) for a night time arm band for each of our kids. We got there at 8 (night time bands are 7-12) they had time to do about 6-7 rides each. The lines for the rides are pretty long I'd say they had to wait about 3 times through each ride before it was their turn. They enjoyed the roller coaster, morbid manner, hurricane, kraken, and power surge the most, but liked all the ones they tried. There was one ride that was not working while we were there. A few were too young for my kids. The slingshot was separate ticket price. Line to get tickets was a little long but they have several spots to purchase. Over they had a great time. It is free to enter and walk around, you only need to pay if you will be riding rides. They have some food booths as well.
Savannah Perry
1688737334
Jolly Roger at the Pier