Howard Johnson Plaza by Wyndham Ocean City Oceanfront
Open Now 12:00 am - 11:59 pm
Sunday

12:00 am - 11:59 pm

Monday

12:00 am - 11:59 pm

Tuesday

12:00 am - 11:59 pm

Wednesday

12:00 am - 11:59 pm

Thursday

12:00 am - 11:59 pm

Friday

12:00 am - 11:59 pm

Saturday

12:00 am - 11:59 pm
We're Not The Howard Johnson® Your Parents Took You To!

Oceanfront and oceanview rooms, custom golf packages, pool, beach and boardwalk, Satellite Coffee Shop all things that you can enjoy when you come stay with us.
Our rooms have two double beds and full size sleep sofa, guest refrigerator, microwave, coffee maker, 25 inch cable TV with remote and alarm clock radio, electronic guest room entrance door locks, spacious, private balcony with every room, guest room safe, all things to make your stay comfortable, relaxing and stressfree.
Come make your Ocean City getaway With Us!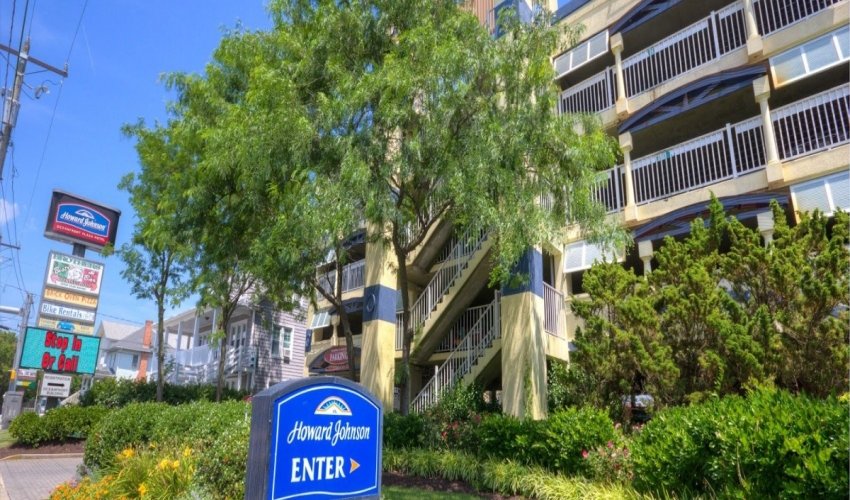 Recent Reviews
Howard Johnson Plaza by Wyndham Ocean City Oceanfront
Mijhael T : 4 on 8/17/2023 8:46 pm
This is a reasonable priced hotel for its location. The service is excellent and very professional. The rooms are a bit worn out but clean. Perhaps they need a refurbishment soon but they do pretty good with what they got. The room we stayed at 1 night had a bit of a haunted feeling to it. It was a bit interesting, I never felt like that in any other vacation hotels I've been to. If you are curious it was room 211.
Mijhael T
1692305199
Howard Johnson Plaza by Wyndham Ocean City Oceanfront
Tony A. : 5 on 7/2/2023 8:41 pm
Everything was perfect! Great location, super friendly staff, and most importantly clean, functional and modern rooms. Our room was a "partial ocean view" but it was completely unobstructed from the balcony. Parking was free and plentiful plus they had a hot tub and pool on the first floor. It was also really nice was the feature where they text you upon arrival and you send them any requests or concerns that you have. My experience was that they were very responsive and accommodating when using it.

Elevators left a lot to be desired, but nothing extraordinarily awful from our experience.
Tony A.
1688330470
Howard Johnson Plaza by Wyndham Ocean City Oceanfront
Sylvia Fitzgerald : 5 on 8/28/2023 4:47 am
This hotel is wonderful. The lobby on the 1st level is cozy and there is coffee available all day. There's also a porch with rocking chairs. The rooms are clean and the balcony is perfect. My husband and I stay in an ocean front room. There is a restaurant that is part of the hotel. There is also easy access to the boardwalk and the beach. The staff is friendly and accommodating. Regarding activities, there is a bicycle rental (Dandy Don's) right next to the hotel. You can ride a bike on the boardwalk (two and a quarter miles.) I love to do that at sunrise. We look forward to vising every year.
Sylvia Fitzgerald
1693198034
Howard Johnson Plaza by Wyndham Ocean City Oceanfront