Howard Johnson by Wyndham Ocean City Oceanfront
Open Now 12:00 am - 11:59 pm
Sunday

12:00 am - 11:59 pm

Monday

12:00 am - 11:59 pm

Tuesday

12:00 am - 11:59 pm

Wednesday

12:00 am - 11:59 pm

Thursday

12:00 am - 11:59 pm

Friday

12:00 am - 11:59 pm

Saturday

12:00 am - 11:59 pm
We're Not The Howard Johnson® by Wyndham Oceanfront Inn Your Parents Took You To!

Oceanfront and oceanview rooms, custom golf packages, pool, beach and boardwalk, Satellite Coffee Shop all things that you can enjoy when you come to stay with us.
Our rooms have two double beds and full size sleep sofa, guest refrigerator, microwave, coffee maker, 25 inch cable TV with remote and alarm clock radio, electronic guest room entrance door locks, spacious, private balcony with every room, guest room safe, all things to make your stay comfortable, relaxing and stressfree.
Come make your Ocean City getaway With Us!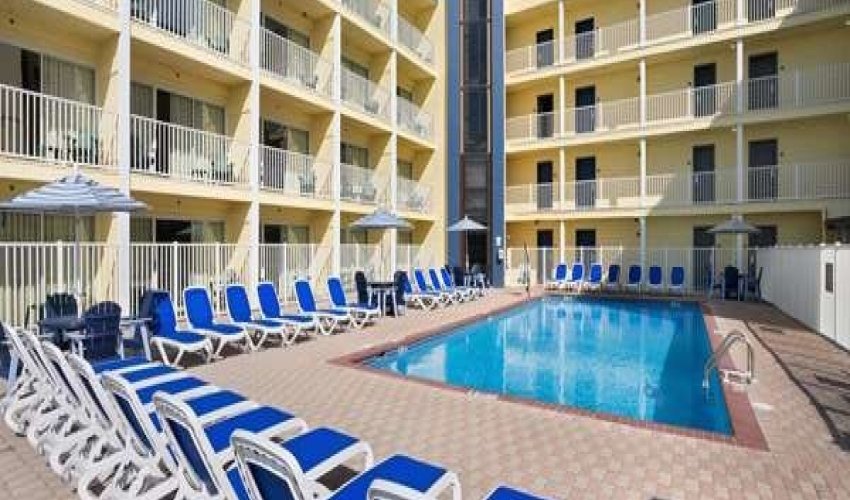 Recent Reviews
Howard Johnson by Wyndham Ocean City Oceanfront
Sabrina Demby : 5 on 8/5/2023 11:20 am
My room was very clean and modern. It was not dated. The pool area was very clean and comfortable. My 10 year old son loved the pool and I enjoyed sitting under the umbrella relaxing. The area was perfect, away from the crowd. I have nothing bad to say. The room has a kitchenette. The staff exceeded my expectations. I would stay there again without question. This hotel was perfect compared to others I have experienced in Ocean City, MD. The next time I will stay longer now that I have found the hotel of my choice. ❤️❤️
Sabrina Demby
1691234427
Howard Johnson by Wyndham Ocean City Oceanfront
Melissa Stamp : 5 on 7/3/2023 4:23 am
Our stay here was such a great experience! We stayed for 6 nights, and the staff made sure we were well taken care of. The rooms are small, but comfortable. There were 5 of us in our room with 2 double beds and a sofa bed. We had plenty of room and plenty of storage spaces for our belongings. Our housekeeper Yanari was phenomenal and consistently checked in to make sure we had linens and to see if there was anything we needed. The room was very clean and came with a full sized toaster oven, microwave, and mini-fridge. The pool was kept very clean also. The view from our oceanfront balcony was amazing and my favorite part! Parking was very congested but we managed. We will definitely stay here again!
Melissa Stamp
1688358226
Howard Johnson by Wyndham Ocean City Oceanfront
Kristen Ross : 5 on 8/24/2023 10:34 pm
Great location right on the beach. We stayed on the 5th floor. The room was very clean and staff were great. The best shampoo and conditioner and body was was supplied. Plenty of towels. Awesome drinks at bar by the pool. The pool was clean with lots of chairs and towels available. We can not wait to go back
Kristen Ross
1692916460
Howard Johnson by Wyndham Ocean City Oceanfront