Howard Johnson by Wyndham Ocean City Oceanfront
Closed
Sunday

12:00 am - 11:59 pm
We're Not The Howard Johnson® by Wyndham Oceanfront Inn Your Parents Took You To!

Oceanfront and oceanview rooms, custom golf packages, pool, beach and boardwalk, Satellite Coffee Shop all things that you can enjoy when you come to stay with us.
Our rooms have two double beds and full size sleep sofa, guest refrigerator, microwave, coffee maker, 25 inch cable TV with remote and alarm clock radio, electronic guest room entrance door locks, spacious, private balcony with every room, guest room safe, all things to make your stay comfortable, relaxing and stressfree.
Come make your Ocean City getaway With Us!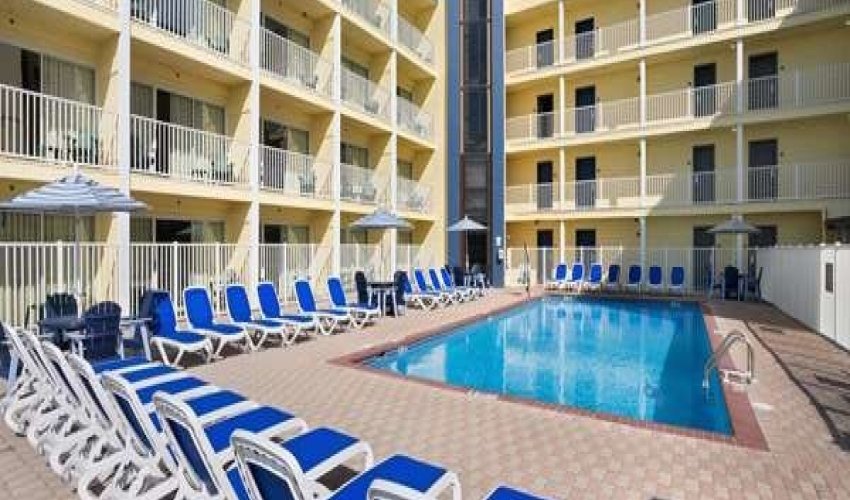 $$$$
Recent Reviews
TripAdvisor Traveler Rating
4
Howard Johnson by Wyndham Ocean City Oceanfront
889
#56 of 116 hotels in Ocean City
Very Good Service During Trying Times of the Coronavirus
Our review pertains to the Howard Johnson Plaza Hotel location at 1109 Atlantic Avenue" (on the boardwalk) in Ocean City, Maryland. We are repeat visitors to this hotel. The excellent...
LoveTravel-4Family
2020-06-20 11:09:41
Howard Johnson by Wyndham Ocean City Oceanfront
friendly staff and clean rooms
staff was fantastic! very clean hotel and convenient to all local shops, boardwalk and restaurants. Would definitely stay here again. Everything from our stay was perfect. I would recommend this...
aammons2020
2020-08-19 04:08:53
Howard Johnson by Wyndham Ocean City Oceanfront
enjoyable
prices went up for the labor day wknd but still not unreasonable for the beachfront location and hotel itself. room was modern and well kept with microwave, safe and fridge, even had another small...
NY_s_Finest
2020-09-14 04:51:10
Howard Johnson by Wyndham Ocean City Oceanfront