Holiday Inn Ocean City
Closed
Sunday

12:00 am - 11:59 pm
The first pool bar and grill in Ocean City! Located at the Holiday Inn Oceanfront on 67th St., The Original Poolbar & Grill is the place to be when the sun comes out. Enjoy refreshing beverages, delicious beach fare, and make memories to last a lifetime!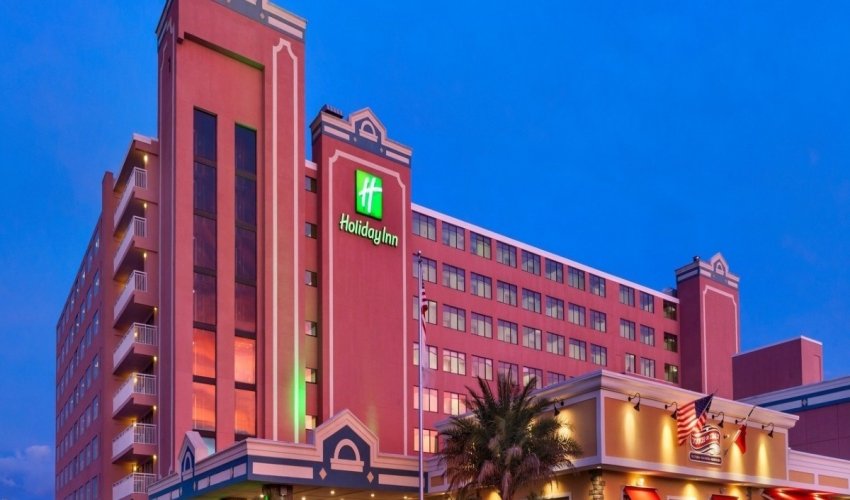 tracy roberts : 4 on 11/17/2023 1:47 am
I was looking for a nice short getaway and I found it. Welcoming at the front desk was Kierra and Michelle they were the best. Thank you. They recently renovated their rooms and my oh my.... nice.The beds and pillows were so comfy. My morning view was of the Sunrise... beautiful view. I will definitely be returning to this location.
tracy roberts
1700185638
Holiday Inn Ocean City
Kevin Jolley : 4 on 8/22/2023 12:12 pm
We stayed here for our first family vacation to Ocean City. Chose the hotel based on location and amenities.
The hotel is centrally located, easy bus ride or drive to attractions and dining.

The outdoor pool area is new, with a swim up bar, hot tub, dining area and music playing.
Lounge chairs can be hard to come by so get there early to claim yours on the weekend.
Raised deck area, with hammocks too, for a quieter area to lounge.

The pool only seemed crowded late on Saturday afternoon.
The hot tub was more like a kiddie pool, mostly kids climbing in and out so don't expect to lounge and relax there. But the indoor pool area has 2 smaller hot tubs, and it is usually quieter.
Outside pool closes at 8, but indoor is open until midnight.

Our room was spacious for 3 of us. Our "queen suite" had a large balcony overlooking pool area and a full (small) kitchen.
Room was clean, but dated and a little worn. Could use a room update to go with the lobby and pool area.

Staff was friendly and helpful, especially the bellman Marcos. Super helpful and friendly, and would greet us whenever we saw him through our entire stay.

Will definitely stay here again when visiting OC!
Kevin Jolley
1692706331
Holiday Inn Ocean City
Ray Cruz : 4 on 9/3/2023 12:02 am
The room was great and remained quiet in the evenings despite how busy the common areas were during the day. Our balcony provided a great ocean view.
Ocean access directly behind the large pool area. And a lively Italian restaurant attached to the lobby.
The staff was friendly and attentive.
The common areas were all updated and beautiful; this did make the room seem outdated by comparison, but that did not negatively impact my enjoyment of our space.
Tons of dining and activities within walking distance, and even more just a short drive away.
Ray Cruz
1693699354
Holiday Inn Ocean City