Hilton Ocean City Oceanfront Suites
Closed
Sunday

12:00 am - 11:59 pm
A sophisticated, family-friendly choice among hotels in Ocean City, Maryland.  Prepare to be rejuvenated and to rediscover the true meaning of "ahhh" a the Hilton Ocean City Oceanfront Suites.  The most luxurious family-friendly hotel in Ocean City beckons you to the beach with contemporary suites just steps from the water, all the perks you expect from Hilton name and uninterrupted ocean views from just about everywhere. 
Guests arriving at at the only Four Diamond hotel in Ocean City find a laid-back yet sophisticated design and decor carrying them to a new level of revitalization.  
Amenities include two oceanfront pools, a state-of-the-art fitness center, complimentary Wi-Fi, heated indoor swimming pool and hot tubs, as well as exceptional dining options. 
Relax, breath in the fresh salt air and let go.  At the Hilton Ocean City Oceanfront Suites, absolutely nothing stands between you and the perfect beach vacation.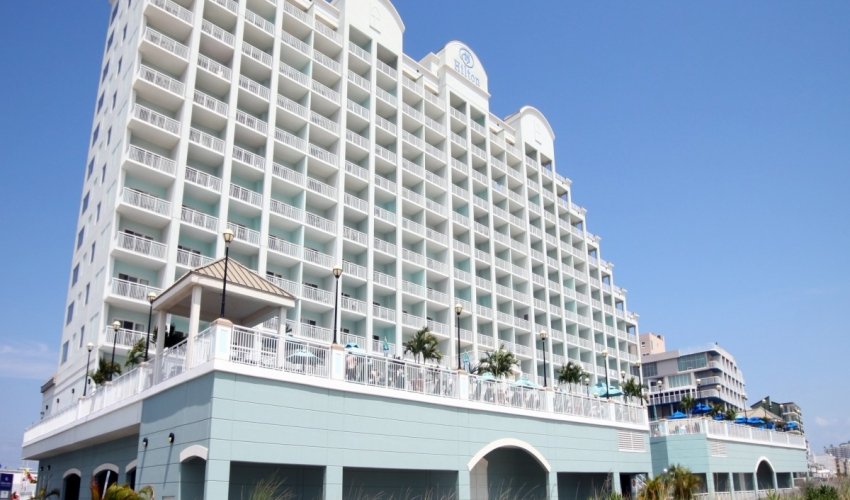 $$$
Recent Reviews
TripAdvisor Traveler Rating
5
Hilton Ocean City Oceanfront Suites
2749
#25 of 117 hotels in Ocean City
Very Helpful staff
Hilton Hotel was a very good stay, accomodations were as expected. The hotel was clean. People were very helpful. We were looking for a Dinner Reservation for Sat 1/14, the helpful concierge 'Uncle...
Tour33083661580
2023-01-14 09:58:21
Hilton Ocean City Oceanfront Suites
Absolutely the #1 hotel in all of Ocean City!
We stay at the Hilton Suites Oceanfront often in the off-season when rates are very reasonable. The rooms are spotless and very large, the furniture is modern and clean, the 2-person jacuzzi bath in...
CountryGirl2215
2023-01-27 05:26:27
Hilton Ocean City Oceanfront Suites
Mostly good, more of a Hampton Plus
Coordination between the 'hotel' and the '39 Palm' is not as integrated as one woulde think. ASK, ASK, ASK about In Room dining before using it. TEST your door dead-bolt lock when you first enter the...
jdbrandt17042
2023-02-06 02:00:06
Hilton Ocean City Oceanfront Suites