Harrison Hall Hotel
Open Now 12:00 am - 11:59 pm
Sunday

12:00 am - 11:59 pm

Monday

12:00 am - 11:59 pm

Tuesday

12:00 am - 11:59 pm

Wednesday

12:00 am - 11:59 pm

Thursday

12:00 am - 11:59 pm

Friday

12:00 am - 11:59 pm

Saturday

12:00 am - 11:59 pm
Enjoy our desirable oceanfront location directly on the Ocean City boardwalk within walking distance to the beach, amusements, arcades, shops, marinas, restaurants, night life and so much more.
Our old-fashioned, spacious front porch is the perfect place to relax in one of our rocking chairs while you watch families stroll along the Boardwalk, play in the sand and splash in the surf.
Amenities include an olympic-size outdoor pool and poolside bar, a prime location directly on the boardwalk, complimentary Wi-Fi, spacious front porch with rocking chairs, in-room refrigerator and complimentary parking (1 car per room).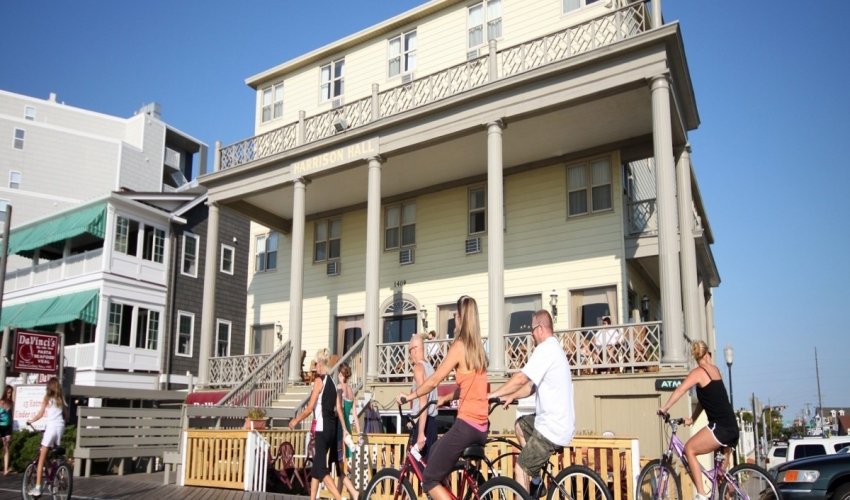 $$
Recent Reviews
TripAdvisor Traveler Rating
4
Harrison Hall Hotel
1139
#38 of 117 hotels in Ocean City
Great Location…In need of update and cleaning!
As is mentioned in several reviews, the hotel doesn't look like the attached photos. It's rather dull looking…gold and brown….needs a new paint job back to the way it is in the photos. The staff are...
Pam G
2022-08-26 09:40:18
Harrison Hall Hotel
Small and older but great location!
We stayed at the Harrison Hotel for three nights recently. It has a great oceanfront location and a wonderful Italian restaurant on the bottom floor at the boardwalk. The rooms are small but clean...
Kriste74
2022-08-31 09:52:03
Harrison Hall Hotel
Disappointment
What a disappointment from the check in to the end. Made reservations in July to ensure a room for Sunfest. The rate was $129 per night - when I added another night the rate was $74 and the rate for...
Expedition754877
2022-10-28 12:22:27
Harrison Hall Hotel