Happy Hooker Bay Fishing
5:00 am - 8:00 pm
Sunday

5:30 am - 9:00 pm

Monday

5:00 am - 8:00 pm

Tuesday

5:00 am - 8:00 pm

Wednesday

5:00 am - 8:00 pm

Thursday

5:00 am - 8:00 pm

Friday

5:00 am - 8:00 pm

Saturday

5:00 am - 8:00 pm
The Happy Hooker started providing bay fishing trips in Ocean City in 1992. Although the boat was upgraded in 2005, she has always operated on Talbot Street Pier. The Happy Hooker is a specially designed 37 foot bay fishing headboat. She carries all USCG required safety equipment and has a USCG licensed captain along with a professional mate.
Anglers aboard the Happy Hooker can catch Flounder, Croaker and Rockfish. All rods, reels and bait are provided. The captain and mate will assist you with set up and will find the best spots in the bay where the fish are biting.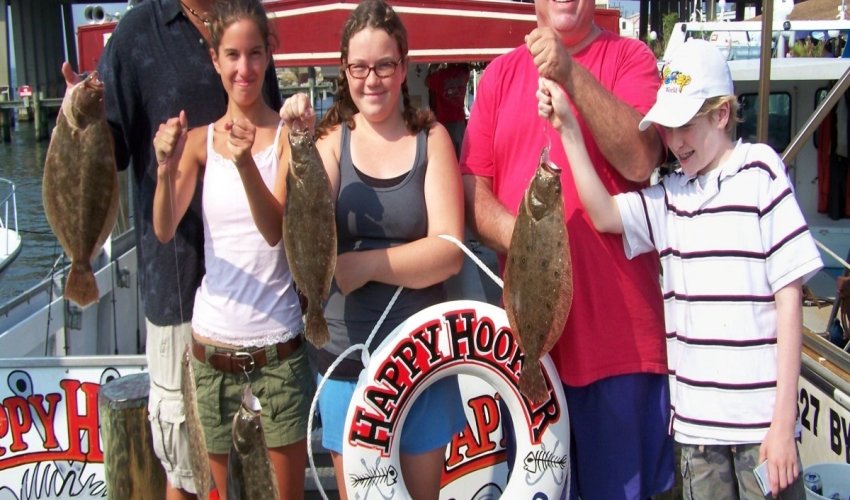 Keith Burgess : 5 on 7/20/2023 1:29 am
Thank you for a terrific time! Our entire crew enjoyed the 2 hour trip and appreciated how great you took care of us baiting the hooks, getting the fish off, etc.
Keith Burgess
1689816560
Happy Hooker Bay Fishing
ally dewey : 5 on 8/19/2023 2:29 pm
Amazing experience, the captain and mate were very knowledgeable and they were also very patient with all of the participants. It was a very relaxing experience with all of the equipment/bait supplied. My family will be returning again next year!
ally dewey
1692455377
Happy Hooker Bay Fishing
Caitlyn : 1 on 8/29/2023 3:31 am
We did not enjoy this activity at all. Definitely the biggest tourist trap in OC. The captain and other worker were so dry and quiet, and not friendly at all. The boat was full but only 2 people caught fish. And just a small flounder and a small sea bass. I felt like it was way too expensive also.. we paid $80 for 2 adults and a child. Would have probably been better (and cheaper) fishing off the pier by the boardwalk and renting a rod. I enjoyed the oc rocket and assateague adventure boat but this was a huge waste of time and money.
Caitlyn
1693279878
Happy Hooker Bay Fishing