Frontier Town Western Theme Park
Opens at 11:45 am 11:45 am - 8:00 pm
Sunday

11:45 am - 8:00 pm

Monday

11:45 am - 8:00 pm

Tuesday

11:45 am - 8:00 pm

Wednesday

11:45 am - 8:00 pm

Thursday

11:45 am - 8:00 pm

Friday

11:45 am - 8:00 pm

Saturday

11:45 am - 8:00 pm
Visit our replica western town circa 1880 and enjoy our revamped Wild West Show, which features an all new Best of the West Exhibition, while still keeping in tradition with Bank Holdups, Native American Dancing, Can Can Shows, Gunfights, and Jailbreaks! Take the youngins to pan for gold. Go for rides on the paddleboats and pony swings. Have a turn in our stagecoach and steam train. Stop by the Golden Nugget, Longhorn Saloon, or Sweet Shop for some good eats. Open daily mid-June – Labor Day.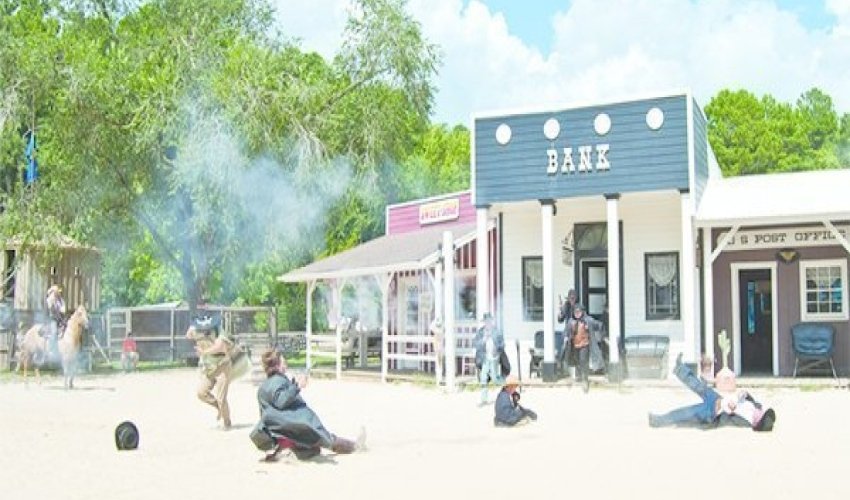 Recent Reviews
TripAdvisor Traveler Rating
4
Frontier Town Western Theme Park
722
#7 of 28 things to do in Ocean City
AWFUL!!!!!
If you like spending a week in a Nascar infield, this is the place for you. Cars, RVs and golf carts going on all day & most evenings.. We stayed in a cabin that was less comfortable than an Army...
marinemom827
2022-08-31 06:12:15
Frontier Town Western Theme Park
Greed
We've been lucky enough to get the same two sites for years for a Halloween stay. My wife and I traditionally paid for our son and daughter -in-law's site next to us as their birthday gift...
bloom144
2022-10-18 06:45:22
Frontier Town Western Theme Park
Not worth the money charged.
We rented two cabins for the final Halloween weekend 10/27-10/30/22. We chose the newer section of the campground just passed the office. We stayed in cabins HH08 and HH09, and booked both cabins a...
EdBeres1031
2022-11-01 00:15:34
Frontier Town Western Theme Park