Frontier Town Water Park
10:00 am - 6:00 pm
Sunday

10:00 am - 6:00 pm

Monday

10:00 am - 6:00 pm

Tuesday

10:00 am - 6:00 pm

Wednesday

10:00 am - 6:00 pm

Thursday

10:00 am - 6:00 pm

Friday

10:00 am - 6:00 pm

Saturday

10:00 am - 6:00 pm
Our Water Park has an attraction for every age! Take the little ones to splash around in the Waterin' Hole, our shallow wading pool featuring a covered wagon, mini-slides, cactus fountains, and water sprays. Challenge the rest of the family to a race down Red Bird's Mountain, our giant triple-lane waterslide, or try out the Tubin' Flumes and end with a big splash in the catch pool. Prefer to relax? Float the day away on the Lazy River or sit back in a lounger with a frozen drink from the Poolside Bar & Grill in hand. And right next door to the Water Park you'll find Mini-Golf, where you can enjoy 18 holes of friendly competition! Open daily Memorial Day – Labor Day.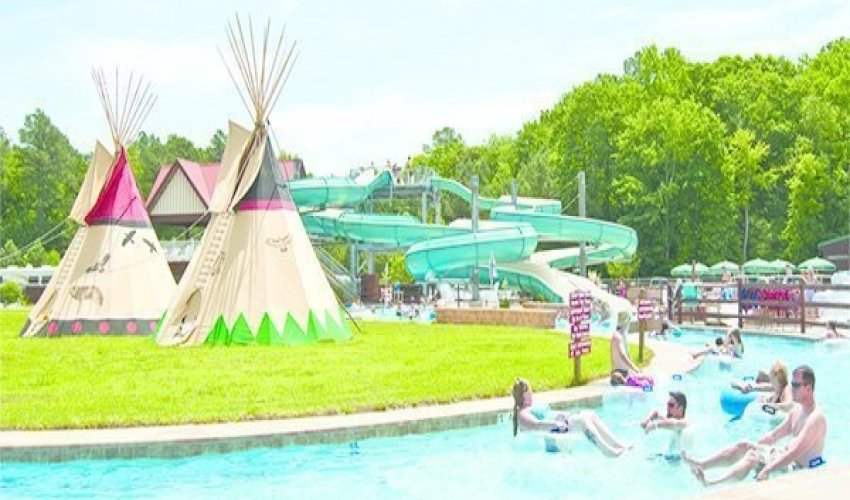 Frankie Rodriguez : 5 on 9/18/2023 6:44 pm
What a great time I had at the water park. You got stuff for all ages. There's a regular swimming pool, water slides, tubing water slides and also everyone's favorite the lazy river. You can go around the lazy river for unlimited time. And also you can take your adult beverages in too. Very relaxing. It's also open to the public. So you will have a little crowd in the early morning till late afternoon. They have a couple of bars in the pool area. Had an amazing time there. I really loved the atmosphere.
Frankie Rodriguez
1695062696
Frontier Town Water Park
Alex Navarro : 4 on 6/1/2022 2:37 pm
This place was a great find near Ocean City. It was the only water park open during the week when we stayed, but it turned out to be great. The facility looks brand new (minus the restrooms and changing area) Everything was set up nicely and very clean. Lazy river was very enjoyable. There are tons of lifeguards and it felt very safe. Little kids area is lovely.

The reason for my 4 star review was mainly that the price was high for the amount to do. I'd say this is probably a half day activity with a full day price tag. The bathrooms were also in need of renovation they were dirty and in need of repair. You also cannot bring in any food or drink which when you have small children who only eat certain things can be rough.
Alex Navarro
1654094279
Frontier Town Water Park
Melissa Gillespie : 4 on 8/23/2022 1:00 pm
Mini Golf course was ok, I wouldn't say it was my favorite but we enjoyed our time together. We really enjoyed their old golf course, however it had been years since being here and wasn't aware that one had been torn down and a new one built until we arrived. It wasn't busy the day we went, however it was hot. There isn't any shade on the golf course. They could use a few trees planted in there. Also, maybe add a bench or two to the course for people to have a quick seat if needed. The staff we interacted with were friendly. We briefly walked through the Western theme park (which is now free to get into). Just by observation it looks like an abandoned town. Times have sure changed, but not always for the best. Bring back the stuff that made this place what it was.
Melissa Gillespie
1661259610
Frontier Town Water Park