Fin Chaser Sportfishing Charters
4:00 am - 9:00 pm
Sunday

8:00 am - 9:00 pm

Monday

4:00 am - 9:00 pm

Tuesday

4:00 am - 9:00 pm

Wednesday

4:00 am - 9:00 pm

Thursday

4:00 am - 9:00 pm

Friday

4:00 am - 9:00 pm

Saturday

4:00 am - 9:00 pm
Spend a day, not a fortune on board Ocean City most popular charter boat. Offering both inshore and offshore trip for up to six people. Fish with the crew who fishes the most.
Fin Chaser is a highly customized legendary 35' Bertram. Rigged for big game fishing with Shimano two speed tackle, 130 lb. class fighting chair and the latest Furuno electronics.
Capt. Dan Stauffer is licensed by the United States Coast Guard and is a licensed guide by the state of Maryland.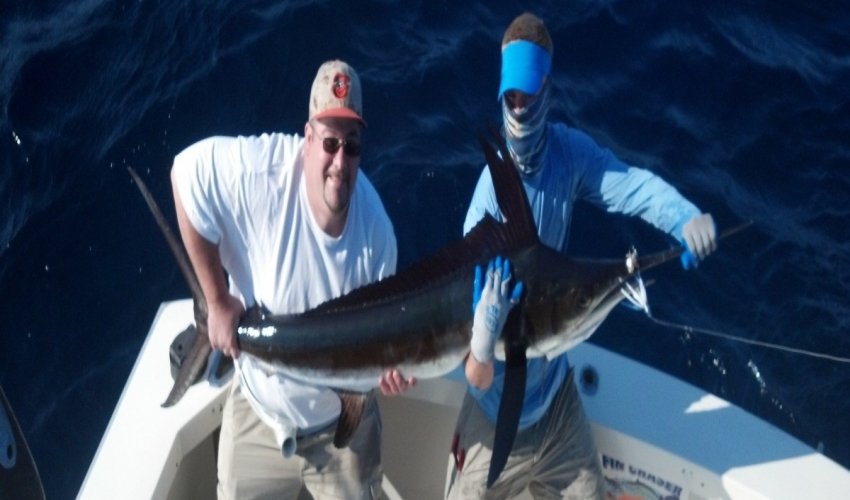 Recent Reviews
Fin Chaser Sportfishing Charters
Shaun Simmons : 5 on 8/13/2022 12:14 am
We had a great time catching sea bass with Dan and Joey on the Fin Chaser! Their experience, versatility, and professionalism kept us on fish the whole time. I have been looking forward to catching some of the best tasting fish in the ocean for a long time and the Fin Chaser delivered big time. They are very clear about what is expected, how to stay safe, and how to be successful in catching fish. Bring a teachable mindset, respect the captain's rules and boat, and you'll have a great day battling sea monsters!!
Shaun Simmons
1660349692
Fin Chaser Sportfishing Charters
Dale Palmatory : 5 on 8/17/2021 12:59 am
It was my first time ever offshore fishing and from the experience I had on the Fin Chaser. It won't be my last! Capt. Dan put us on plenty of fish. Limited out on blueline tilefish (30) and even got us on the tuna we all wanted. His mate Joey was very friendly and had a joke around personality just like all of us. Made fishing with him even better. Both Captain and mate were very knowledgeable of the sea. Prices are fair and I would recommend the Fin Chaser to anyone that ask. Hell, I already have been recommending the Fin Chaser to family and friends!!! Thanks for an awesome first time experience Capt. Dan and Joey. See yall on the next trip!
Dale Palmatory
1629161997
Fin Chaser Sportfishing Charters
Matthew Thrasher : 5 on 8/7/2022 1:21 am
This was our third annual trip aboard Fin Chaser. Capt Dan and mate Joe were once again on top of their game. We caught a boat limit of tilefish, with several being trophy size fish. We have already booked with Fin Chaser for next year and we are looking forward to our offshore trip! I would highly recommend Fin Chaser to anyone looking for an excellent fishing experience. Thanks Capt Dan and Joe
Matthew Thrasher
1659835298
Fin Chaser Sportfishing Charters