Executive Motel
Please call for hours
Ocean City, Maryland Hotels - perfect for your next Ocean City vacation.

Near Ocean City Maryland's white sandy beach, the Executive Motel is a Ocean City hotel convenient to the Convention Center, Ocean City Boardwalk, amusements and many fine restaurants. Each room is air conditioned with remote cable color television, telephone, small refrigerator, microwave, daily maid service and ceramic tiled baths. Don't forget to take a dip in our sparkling pool.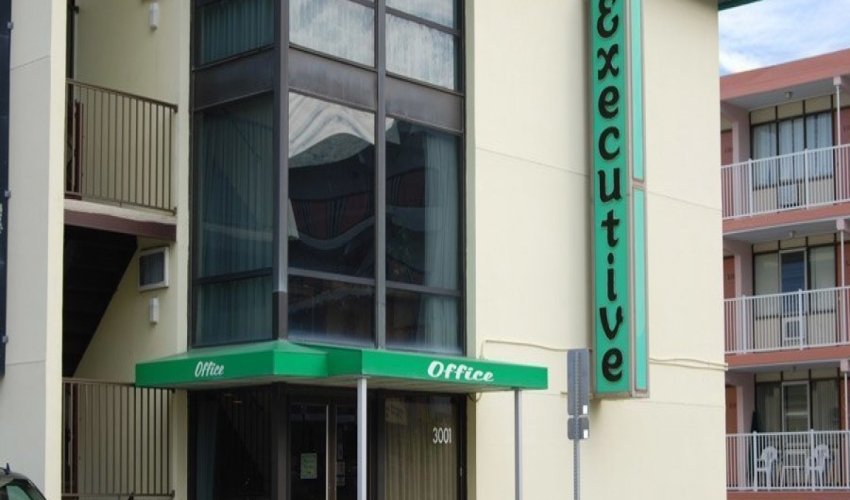 $$
Recent Reviews
TripAdvisor Traveler Rating
4
Executive Motel
110
#67 of 116 hotels in Ocean City
Returning vacationer, to my favorite place to stay when I'm O.C, MD!
We returned for another great vacations staying at the Executive Motel! I feel I keep writing the same thing about this place but, I really enjoy the staff, the location and the prices. For what you...
Lifesabeach83
2018-06-24 05:24:20
Executive Motel
Great employees not so great everything else
We stayed 3 nights with our 5yr old. The room was ehhh. Beds were sooo uncomfortable, towels extremely thin, and only soap and shampoo provided. Wouldn't stay again. For the price it was...
realtoraubrey
2018-08-12 16:12:33
Executive Motel
really bad
will never stay here again,,,the room was moldy smelling as soon as you open the door the stench hits you,,,the carpet was filthy,,my feet were black from the` filth on the floor,there was white...
carol w
2019-08-23 08:41:21
Executive Motel