Dry Dock 28
Opens at 2:00 pm 2:00 pm - 2:00 am
Sunday

11:00 am - 10:00 pm

Monday

5:00 pm - 12:00 am

Tuesday

2:00 pm - 2:00 am

Wednesday

2:00 pm - 2:00 am

Thursday

5:00 pm - 12:00 am

Friday

2:00 pm - 12:00 am

Saturday

11:00 am - 12:00 am
Type:
American
,
Sandwiches & Subs
,
Steak/Steakhouse
Features:
Bar/Lounge
,
Live Music
Dry Dock 28 was created to offer a unique dining experience to the many locals and visitors of Ocean City. Revel in one of our many seafood centric dishes, try a specialty craft pizza, along with a freshly created salad or a warm crock of soup. Enjoy live entertainment in our modern, nautical themed space. Dock yourself at the infamous & authentic boat bar while enjoying a craft cocktail or local brew. Outdoor seating available, live entertainment weekly, t-shirt shop, high definition TVs, stellar carry out, beer & wine to go! Walk the Gangplank & Dock on 28th, OCMD.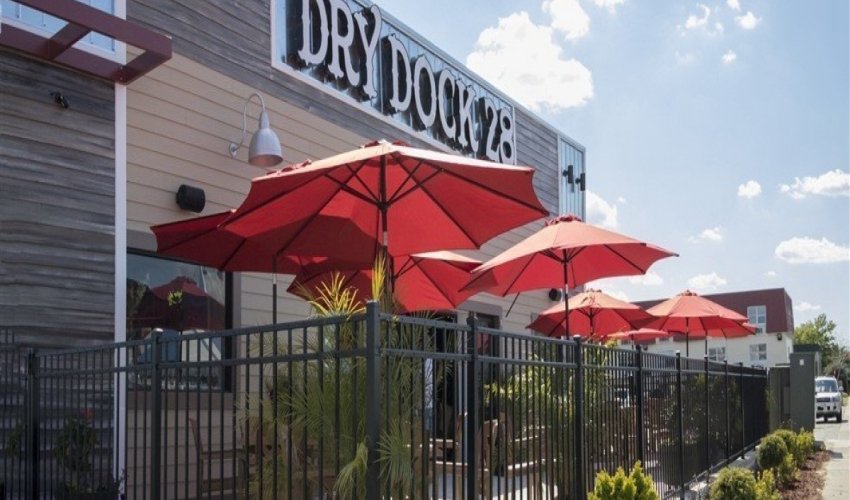 $$ - $$$
Recent Reviews
TripAdvisor Traveler Rating
4
Dry Dock 28
74
#194 of 417 Places to Eat in Ocean City
Great Meal in the OC!
We loved our dinner here! From the friendly server to the delicious food to the nice atmosphere. The chips and queso appetizer was delicious! My cheesesteak sandwich was also very good. Having a...
jwall311
2022-07-19 03:47:14
Dry Dock 28
Amazing Food and Service
I went for a group event and came back 2 days later because the food was so delicious. The pierogis, steak and cheese egg rolls, watermelon crush, wings were all delicious. Definitely a keeper! And...
Just_Me_Bernie
2022-07-20 18:29:42
Dry Dock 28
Not great
Not a great experience. Roasted oysters were bread crumbs on 4 small oysters. Specials weren't special by any means, slivers if meat with extra breading to make the sandwiches.
jlehmank93
2022-08-06 15:52:17
Dry Dock 28