Cycle City, Inc.
10:00 am - 5:00 pm
Sunday

10:00 am - 5:00 pm

Monday

10:00 am - 5:00 pm

Tuesday

10:00 am - 7:00 pm

Wednesday

10:00 am - 5:00 pm

Thursday

10:00 am - 5:00 pm

Friday

10:00 am - 5:00 pm

Saturday

10:00 am - 5:00 pm
Scooters are a great way to enjoy your stay in Ocean City.   You can cruise down the main highway or take a long enjoyable ride to Assateague Island.   We offer a wide range of scooters for sale and rent, from Honda, Yamaha, Bashan and many others. We are also a full service facility and can repair any scooter.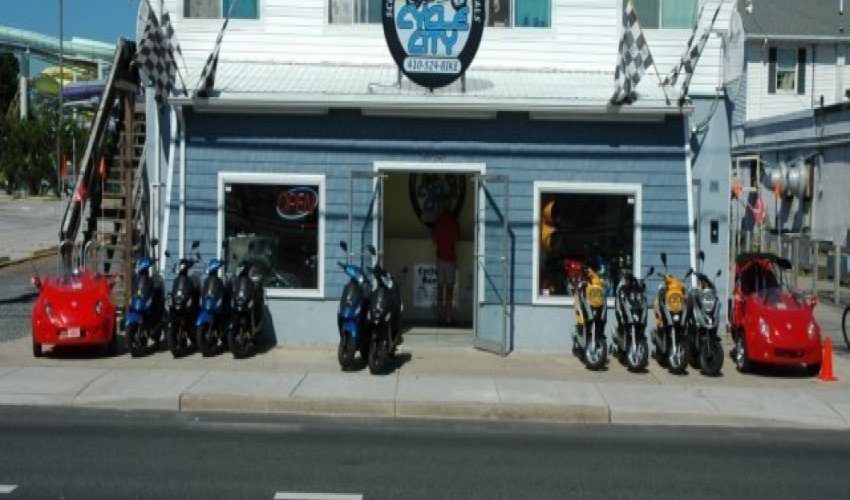 Brandon Danganan : 5 on 10/17/2021 7:54 pm
Came to the shop with some bike problems last minute and Jesse took care of it. True pro at his profession.

Amazing service all around and would highly recommend them to anyone!
Brandon Danganan
1634500446
Cycle City, Inc.
Cara : 5 on 8/14/2023 11:43 pm
Would give 10 stars if I could! Came last minute for a flat tire, thought it would take a little bit of time but was in and out in less than 10 minutes. Definitely recommend.
Cara
1692056621
Cycle City, Inc.
Willl E. Coyote : 5 on 8/12/2020 6:30 am
Well let me say this! If there was no cycle city and Jesse. Ocean city would be doomed!!! With the covid going on there's all kinds of rules in place and things you can't do. Biking was one of the very few things not needing a mask or being restricted. Oops i forgot that all the other cycle shops had either a wobbly wheel with their time restriction or you had to Trek out on a mountain bike. Too bad there isn't any mountains there!! The beach and Cycle city go hand in hand. Be fooled not about cycle city. All kinds of wheeled cycles for you wants and needs at a better cost then the others. Jesse has been working his mechanically inclined skills in that shop so you all have the best and most safest and enjoyable vacation with your transport.
Willl E. Coyote
1597213825
Cycle City, Inc.