Crystal Beach Oceanfront Hotel
Closed
Sunday

12:00 am - 11:59 pm
The Crystal Beach Hotel is located at 25th Street and the Boardwalk overlooking clean, wide beach on the Atlantic Ocean. The hotel is within walking distance of shopping, fine dining, fun eateries, and the amusements on Ocean City's newly renovated boardwalk.
Only a few steps away, enjoy your day on the well guarded beach, bike riding, roller, or stroll the boardwalk. Catch the tram for a leisurely sightseeing boardwalk tour from beginning to end. Want a little more action? You will find jet skiing, parasailing, dinner cruises and miniature golf just a short walk to the bay. It takes only minutes to reach great golf courses or go antiquing in nearby Berlin, the town where "Runaway Bride" was filmed. Of course, don't forget the short trip to Assateague Island to see the famous wild ponies.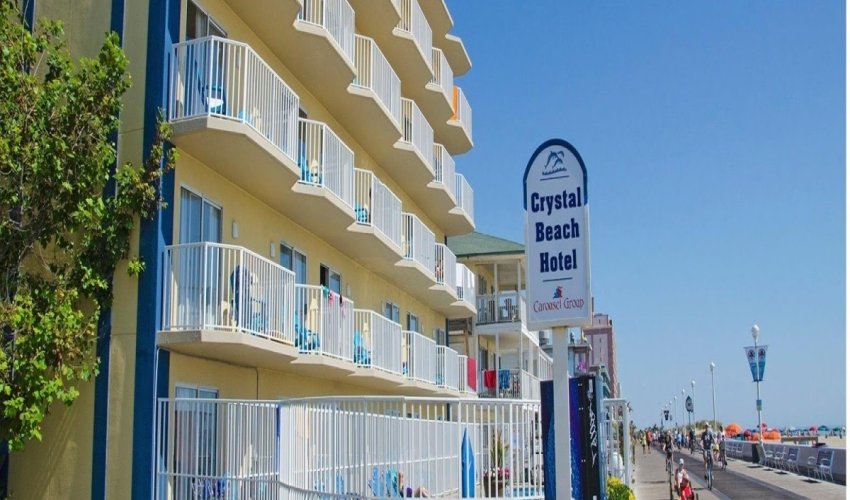 $$
Recent Reviews
TripAdvisor Traveler Rating
4
Crystal Beach Oceanfront Hotel
477
#77 of 117 hotels in Ocean City
Don't waste your money on this place
Beds were hard as a rock, bath towels were dirty, paint was peeling on bathroom ceiling, drawer was missing on the dresser, beach side pool was in horrible condition the only thing that was positive...
Bartman12345
2022-09-22 07:45:52
Crystal Beach Oceanfront Hotel
Crystal clear that I wont stay here again!
We checked into Crystal Beach on Friday, September 23rd around 11:30pm. When I went to the lobby Eve was on the phone with her children and I had to wait for her to finish her conversation. She...
P2938VSjuliew
2022-09-27 09:00:52
Crystal Beach Oceanfront Hotel
Less than forgiving cancellation experience
We made reservations for a Monday and Tuesday night the week of the hurricane unexpectedly rolled in the month of September. When we saw how things were progressing, we called Saturday before our...
lindacE7424YP
2022-11-12 12:30:13
Crystal Beach Oceanfront Hotel