Central Reservations - Ocean City Vacation Rentals
9:00 am - 5:00 pm
Sunday

9:00 am - 5:00 pm

Monday

9:00 am - 5:00 pm

Tuesday

9:00 am - 5:00 pm

Wednesday

9:00 am - 5:00 pm

Thursday

9:00 am - 5:00 pm

Friday

9:00 am - 5:00 pm

Saturday

9:00 am - 5:00 pm
Welcome to Central Reservations! We offer the best vacation rental properties in our resort area and truly outstanding personal service.

Select from an array of newly constructed properties in Ocean City, Maryland or one of your family favorites upgraded and ready to rent. Want to try something new? Explore our West Ocean City, Maryland vacation rental properties. Just a short drive takes you to Ocean City, Maryland, Assateague Island, a theme park, golf course, outlet stores and much more!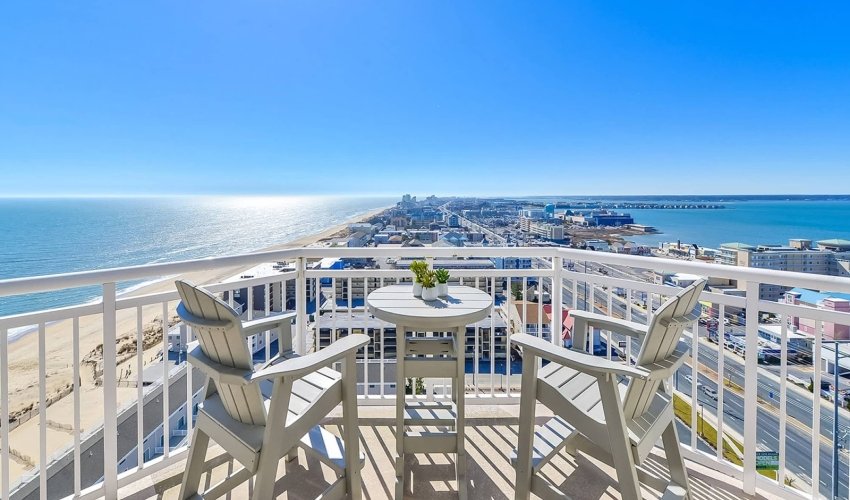 Recent Reviews
Central Reservations - Ocean City Vacation Rentals
Wheeler Kearney : 5 on 8/26/2023 3:59 am
For the past few years I have been renting great condos for my family vacations. Central Reservations has furthered my love for renting condos. The reservation process was simple. The cost of the condo was reasonable. Most importantly the condo was in great condition. We were in the Makai building, which had an indoor pool, gym, and pool tables. The location was close to restaurants, popular attractions, and a short walk to the beach. Please read the description of the condo because we needed to bring our own linens. However, they do offer a linen package. I will definitely rent from them again next time I visit Ocean City.
Wheeler Kearney
1693022384
Central Reservations - Ocean City Vacation Rentals
Lindsey Tamburro : 1 on 6/13/2023 1:18 am
We stayed at the st.Kitts condo and when we arrived much to our shock discovered a boarded up broken window in the biggest bedroom of the condo. When I called the rental office they basically refused to send anyone to look at the window and simply said a window was ordered what would I like them to do? What would I like you to do is offer to remedy the situation the woman on the phone simply said we have had several people stay here recently with no complaints. Which I suppose meant me and my family should accept the fact this was not mentioned anywhere in the listing and deal with it. Due to the broken window I got no sleep for 4 nights being woken up every morning around 5-6 to loud landscaping going on outside. This is unsafe and this rental company has no problem slapping a board over a window and charging over 2k for a 4 night stay. Wish I could say this was the only issue with this rental sadly the entire condo was filthy.

The beds came filled with Doritos crumbs and stained coverlets on all the beds exactly what you want to see when you go to put the linens you brought from home onto a filthy stained mattress cover. Every piece of furniture in the living area is stained and worn there's dirt and marks all over the walls in every room overall little to no cleaning take place here it's very obvious. All the faucets were close to broke and flimsy. One of that bathrooms has a broken bath tub with a sign that says don't use another gem they don't include in their outdated pictures. overall I travel every summer and rent all different types of vacation homes I'd rate this one the dirtiest and central reservations as unwilling to do much more than offer 150$ credit.

Shame on them.
Lindsey Tamburro
1686619092
Central Reservations - Ocean City Vacation Rentals
Isabella Scarantino : 2 on 9/5/2023 2:54 pm
This was somewhere to lay our heads for a few nights but overall not a good place to stay. The woman we checked in with was rude until my boyfriend turned on his own charm to soften her up. At the condo, 14 39th St (Ocean Breeze), there's definitely an issue with the air quality and/or there's mold, as the place smelled so musty our entire stay, no opening of windows or dehumidifier could help. The dehumidifier that was there filled up constantly, seeing it was provided was an immediate red flag. One bedroom door didn't have a full latch on it to close all the way. One bedroom had screws that went through the side of the "closet". Exposed wire sticking out near the front door. Curtain in the bathroom had black mold spots on it. The recliner smelled like urine and mold so no one cared to sit in it during our stay. Queen bedroom was crammed with furniture, we're lucky we're not larger people or that wouldn't have worked out well. Not a well kept place. Dishes in the cabinets were dirty. If this company wants to have a reputation for renting nice condos, lose this property because it's a mess.
Isabella Scarantino
1693925670
Central Reservations - Ocean City Vacation Rentals