Cayman Suites Hotel
Closed
Sunday

12:00 am - 11:59 pm
Spend your days enjoying the sunshine, beach, golf courses and other fabulous resort activities. Spend the rest of the time enjoying the abundant amenities you'll find in our well-appointed suites.

Enjoy a swim in our glass-enclosed heated pool, stop by our fitness room for an early morning or late afternoon workout, or relax savoring a beautiful sunset on your very own balcony.

Located in north Ocean City, we're convenient to the City's Northside Park recreation complex. The park has facilities for many outdoor and indoor sports, including softball and soccer, and hosts numerous tournaments yearly. Sunday summer concerts in the park are free. The jogging paths are transformed each winter into the City's now famous dazzling "Winterfest of Lights."

The hotel is in the ocean block with no major streets to cross to the beach.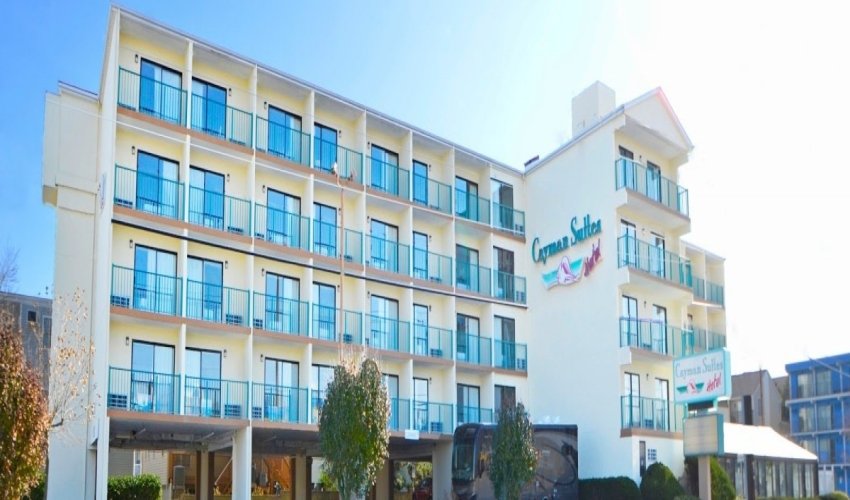 $$
Recent Reviews
Travelers Choice 2020
TripAdvisor Traveler Rating
4
Cayman Suites Hotel
419
#23 of 116 hotels in Ocean City
Never Again! The Worst Place We've Ever Stayed!
The front desk messed up from the beginning when we called in to reserve 3 rooms. They messed up and overcharged us for the initial deposit. We had to keep calling back to get it straightened out...
DDanie09
2020-07-27 10:53:18
Cayman Suites Hotel
Why the change in reviews
This was our first stay at the Cayman Suites out of over 200 trips to Ocean City. Pictures and layout on website look wonderful; live viewing was not so wonderful. First, let me say that the staff...
E6261FDlynnm
2020-08-04 02:35:27
Cayman Suites Hotel
Ok if you can get a cheap rate
Hotel is ok for the price we paid. Location is great. Becky at the front desk was pleasant. She let us check in a little early. Can't comment on any amenities as we didn't use any. Rooms need a deep...
1986clk
2020-08-22 05:00:04
Cayman Suites Hotel