Cayman Suites Hotel
Open Now 12:00 am - 11:59 pm
Sunday

12:00 am - 11:59 pm

Monday

12:00 am - 11:59 pm

Tuesday

12:00 am - 11:59 pm

Wednesday

12:00 am - 11:59 pm

Thursday

12:00 am - 11:59 pm

Friday

12:00 am - 11:59 pm

Saturday

12:00 am - 11:59 pm
Spend your days enjoying the sunshine, beach, golf courses and other fabulous resort activities. Spend the rest of the time enjoying the abundant amenities you'll find in our well-appointed suites.

Enjoy a swim in our glass-enclosed heated pool, stop by our fitness room for an early morning or late afternoon workout, or relax savoring a beautiful sunset on your very own balcony.

Located in north Ocean City, we're convenient to the City's Northside Park recreation complex. The park has facilities for many outdoor and indoor sports, including softball and soccer, and hosts numerous tournaments yearly. Sunday summer concerts in the park are free. The jogging paths are transformed each winter into the City's now famous dazzling "Winterfest of Lights."

The hotel is in the ocean block with no major streets to cross to the beach.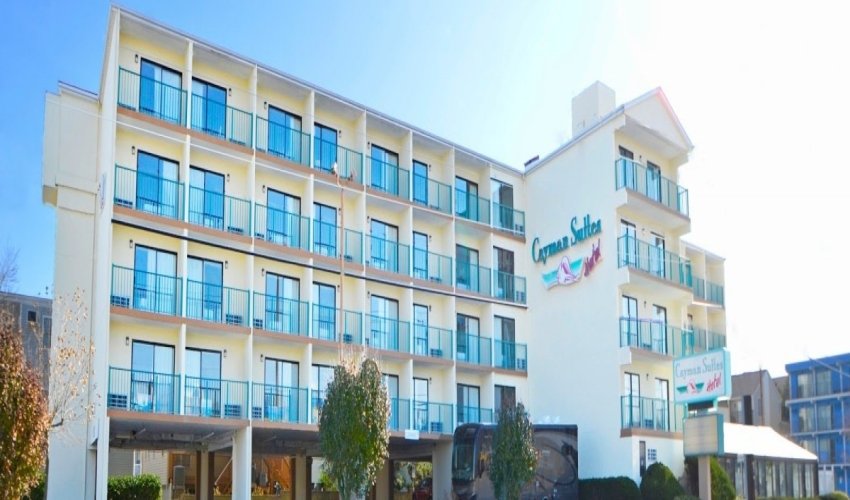 $$
Recent Reviews
TripAdvisor Traveler Rating
4
Cayman Suites Hotel
430
#40 of 117 hotels in Ocean City
Was a really nice property before Carousel
We've been coming to the Cayman Suites for over 20 years. It has an indoor pool, is close to the beach, the rooms have a kitchenette, and was reasonably priced. Unfortunately, about a year ago the...
WharfRatt
2021-10-11 03:57:58
Cayman Suites Hotel
Room was Disgusting
Daughter was only crawling for 5 minutes at the most and here legs and hands were black and that's not cool when baby's puts there hands in her mouth there were pubic hairs all in the bathroom which...
Savannahweigle
2022-06-25 06:23:36
Cayman Suites Hotel
Save you money
If I gave a higher review, I would be lying. We booked last minute, we figured since they were a part of Carousel Group, this place would be nice. I was wrong, the pictures are deceiving. Not even...
thekapinos4
2022-08-07 12:55:41
Cayman Suites Hotel