Buckingham Hotel
Opens at 9:00 am 9:00 am - 5:00 pm
Monday

9:00 am - 5:00 pm

Tuesday

9:00 am - 5:00 pm

Wednesday

9:00 am - 5:00 pm

Thursday

9:00 am - 5:00 pm

Friday

9:00 am - 5:00 pm
Situated just a 1/2 block from the beach and boardwalk, the Buckingham Hotel is within walking distance of many amusements, restaurants and shopping. Laze away the afternoon on our spacious front porch or enjoy a dip in the outdoor pool of our sister motel. With several types of rooms, efficiencies and apartments to choose from, the Buckingham is sure to satisfy your vacation needs. If you need a little more we're close to outlet shopping and casino.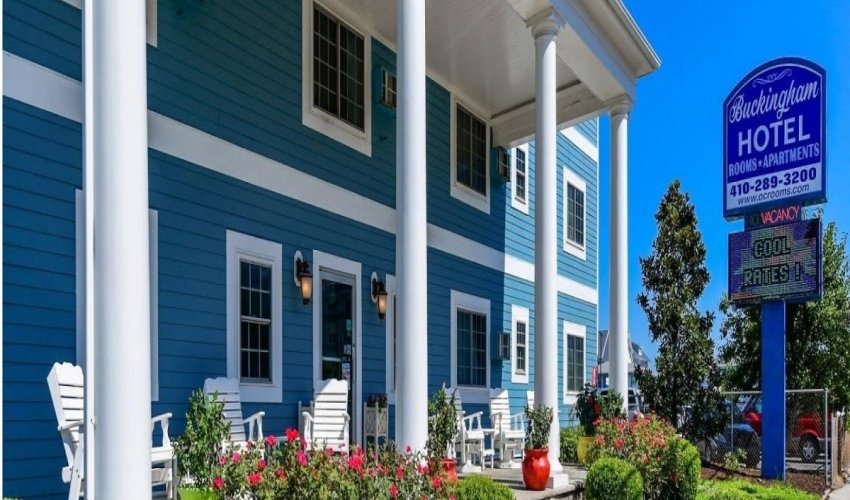 $$
Recent Reviews
TripAdvisor Traveler Rating
4
Buckingham Hotel
364
#62 of 117 hotels in Ocean City
Worst hotel in Ocean City
Booked to stay here following my wife's father funeral but upon arrival we were told they were overbooked. The manager was rude and did not assist us in finding other accommodations. We had to go...
Stami47
2021-08-28 13:21:14
Buckingham Hotel
Would never recommend!!
We stayed at the commander beach house for one night and we were disgusted the moment we walked into the lobby. It smelled like mold and trash. As we walked up 2 flights of stairs, there were bags of...
sarasL5144YX
2021-10-11 09:17:42
Buckingham Hotel
I'm concerned
I just booked a hotel room here, after reading all of the reviews I'm worried that it will smell of smoke and have dirty bedding. If this is the case I don't know if I can even book another hotel...
butteredc
2022-07-14 17:42:33
Buckingham Hotel