Bike World
8:00 am - 2:00 pm
Sunday

8:00 am - 3:00 pm

Monday

8:00 am - 2:00 pm

Tuesday

8:00 am - 2:00 pm

Wednesday

8:00 am - 2:00 pm

Thursday

8:00 am - 2:00 pm

Friday

8:00 am - 2:00 pm

Saturday

8:00 am - 3:00 pm
Over 15 years of experience and 80,000 customers, Ocean City Bike Rentals offers bike and surrey rentals between 8th and 9th Street on the Boardwalk. Open rain or shine from Memorial Day through Labor Day, 5:30am - 11:00am.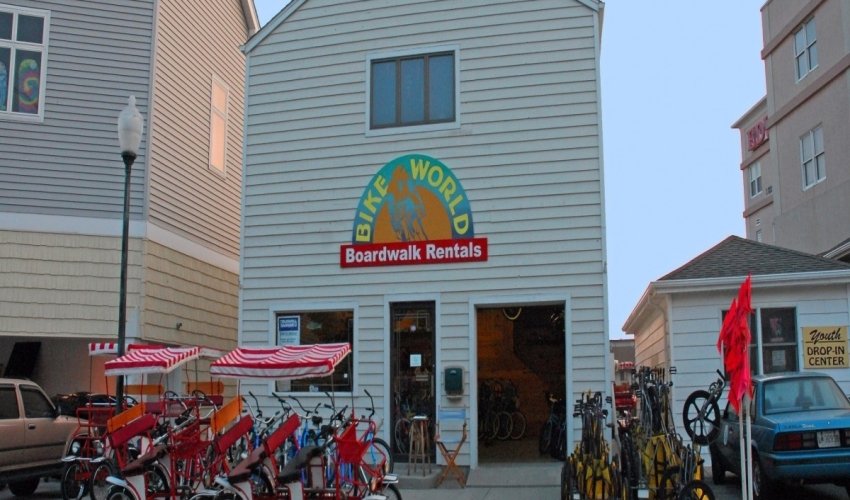 Debra Clen : 5 on 11/5/2023 11:18 am
We rented a 2 person side by side bike. It was great fun and exercise to travel the boardwalk. Reasonably priced and easy to rent the bike.
Debra Clen
1699183115
Bike World
Michael Currie : 5 on 7/14/2023 1:51 pm
Awesome place to rent a bike for the boardwalk. They have 3G bikes! Good prices and business model.
Michael Currie
1689342665
Bike World
Tom Duvall : 1 on 9/9/2019 7:00 pm
Tried renting a bike for my family and special needs son with Autism. Staff was very short with patience for us and basically told us to go away. I would not recommend or rent here. There are other businesses in town that would be more helpful.
Tom Duvall
1568055628
Bike World