Beach Bum Motel
Open Now 12:00 am - 11:59 pm
Sunday

12:00 am - 11:59 pm

Monday

12:00 am - 11:59 pm

Tuesday

12:00 am - 11:59 pm

Wednesday

12:00 am - 11:59 pm

Thursday

12:00 am - 11:59 pm

Friday

12:00 am - 11:59 pm

Saturday

12:00 am - 11:59 pm
Cool, clean, and comfortable downtown motel located within a 5 minutes walking distance to the beach and the Boardwalk. Just perfect for all those who don't want to break the bank while beach bummin' in Ocean City, Maryland.

Offering a nice size outdoor pool, large sundeck, friendly and timely service, and relaxed atmosphere. Off-street parking, daily maid service, graduates welcome during the month of June.

You pick what best suits your needs: standard room, king size suite, efficiency with a full kitchen or a beach cottage for up to 10 people.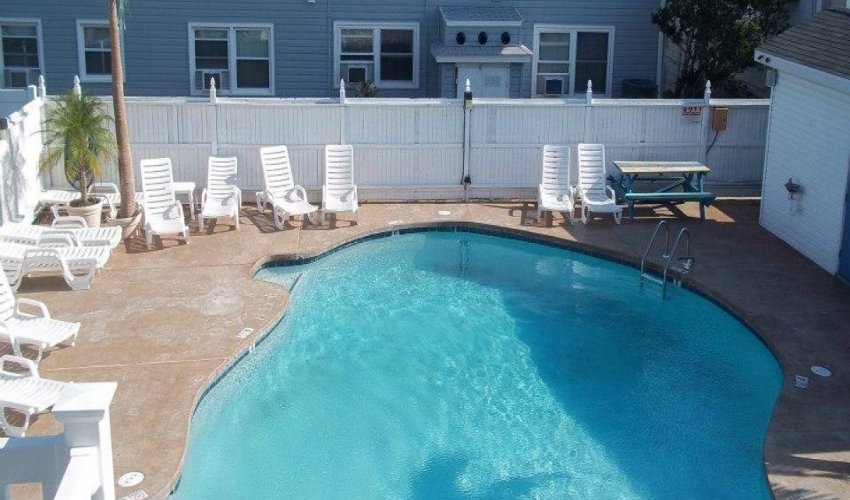 Stephanie Buckley : 2 on 8/9/2023 9:57 pm
Kind of a weird place, but oddly, it sort of grew on me. If you're looking for luxury, this isn't it. It's a little gross and raggedy, we had to buy our own hand soap and tissues for the bathroom, and it smelled a little funky/mildewy. Folks at the front desk were really nice, but you have to get all your own stuff if you want fresh towels, etc. I'm not like, outraged, because I booked late and the price was pretty low, but I was expecting it to be a little cleaner/nicer. Walls are super thin too; you can hear everything. Not bad if you're in town for a short stay, but next time I'll go to some place nicer instead. Pros: close to the beach, cool little Greek cafe next door, Food Network on the TV. I didn't go to the pool but at a glance it looked clean and nice.
Stephanie Buckley
1691618239
Beach Bum Motel
Bo Westover : 4 on 8/2/2023 2:38 am
Good pricing for a short notice trip I had to take recently. My daughter had a national dance competition to go to and we only found out a week and a half prior to booking to find a place. Very clean rooms, they have a fridge, a stove, plates and silverware and air conditioning. The bathroom was on the small side, but it was clean and served its purpose. The staff was friendly as well. We paid extra for early check-in, but didn't get checked in until a little later than expected. But they took half of the early check-in free off for us and I will more than likely be booking with them in the future; which will probably be every year for the next few years due to the national dance competition being held down there yearly in July. Only have to cross 2 streets, and you're right in the dead center of the boardwalk. There are some stores located close so if you need something, you'll be able to find it if needed. They have a nice little pool and a place to buy food extremely close to the rooms for breakfast, lunch and/or dinner.
Bo Westover
1690943938
Beach Bum Motel
Brittani Hrehorovich : 1 on 10/1/2023 7:37 pm
holy yikes. would give 0 stars if i could. we called FOUR times (and spoke to someone), left a voicemail morning of and stopped in and spoke to a kid at the front desk to confirm the check in/check out date because we weren't getting the confirmation emails… day before checkout comes and they call us saying they're going to charge us $300 for an "extra night"…. what??? we went back and packed our stuff and booked another hotel for the night for $70 and this p.o.s. hotel still charged us a $300 "late checkout fee"???? what a joke! disputing through our bank. only a young kid to talk to, wouldn't connect us with the owner/a manager. also, duct tape holding the shower together. NOPE.
Brittani Hrehorovich
1696189050
Beach Bum Motel