Ayers Creek Adventures
9:00 am - 5:00 pm
Sunday

9:00 am - 5:00 pm

Monday

9:00 am - 5:00 pm

Tuesday

9:00 am - 5:00 pm

Wednesday

9:00 am - 5:00 pm

Friday

9:00 am - 5:00 pm

Saturday

9:00 am - 5:00 pm

Thursday

9:00 am - 5:00 pm
Maryland's coastal bays are truly stunning.  This unique environment offers a sense of remoteness just a short distance from Ocean City.
Escape to a quiet world of abundant natural beauty as you explore these magnificent marshes and waterways.
Experience first hand the vast array of wildlife including bald eagles, herons, egrets, osprey, ducks, otters and white tail deer as you paddle these peaceful waters.  The coastal bays watershed exhibits the highest diversity of habitats and living creatures in Maryland.
Join us for a guided eco - tour or explore on your own in one of our rental kayaks, canoes or stay up paddle boards following our detailed water maps and wildlife guides.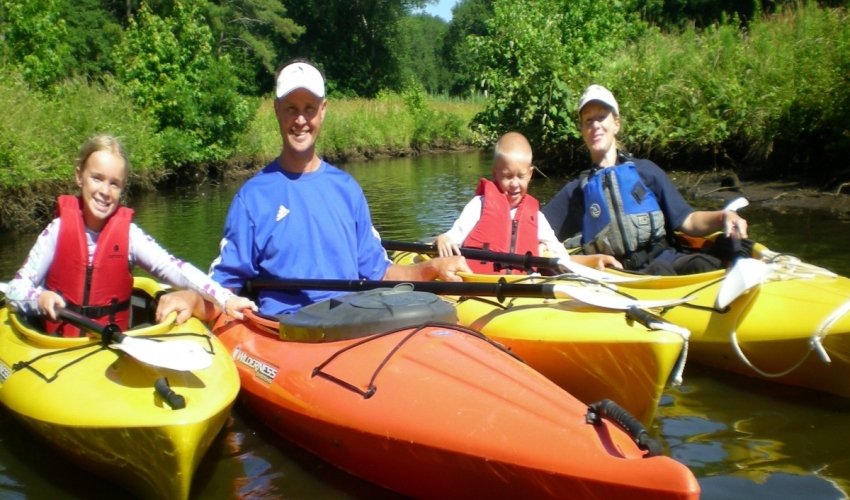 Recent Reviews
TripAdvisor Traveler Rating
5
Ayers Creek Adventures
208
#1 of 12 Outdoor Activities in Berlin
Relaxing kayaking trip
We had a very enjoyable morning exploring Ayres Creek with our homeschooling friends. We can't wait to book again and explore more.
drnicola
2022-08-26 17:44:57
Ayers Creek Adventures
Peaceful and Serene
We had such a relaxing and enjoyable tour with Donna. We enjoyed seeing a couple of Eagles and blue herons along with other birds. Donna answered all our questions along the way. It was just so...
sharontrim27
2022-09-18 11:18:03
Ayers Creek Adventures
Relaxing Time on the Creek
We had a delightful time kayaking on Ayers Creek. Other than another group that passed us, and the local wildlife, we were the only people around. The kayaks, paddles and other gear were all in...
Coffeedrnkr
2022-10-07 12:51:10
Ayers Creek Adventures