Assateague Outfitters
Closed
Sunday

10:00 am - 4:00 pm

Saturday

10:00 am - 4:00 pm
SuperFun Eco Tours is a full service kayak outfitter providing kayak tours and rentals on Assateague Island. Join us for a fun and educational natural experience on Assateague, an amazingly beautiful and diverse barrier island located near Ocean City, MD. Explore the natural and cultural wonders of Assateague on one of our unique kayak tours. Our professional and knowledgeable guides make our kayak tours a fun and educational natural experience.
Call us today to book your SuperFun Eco-Tour 888.41.KAYAK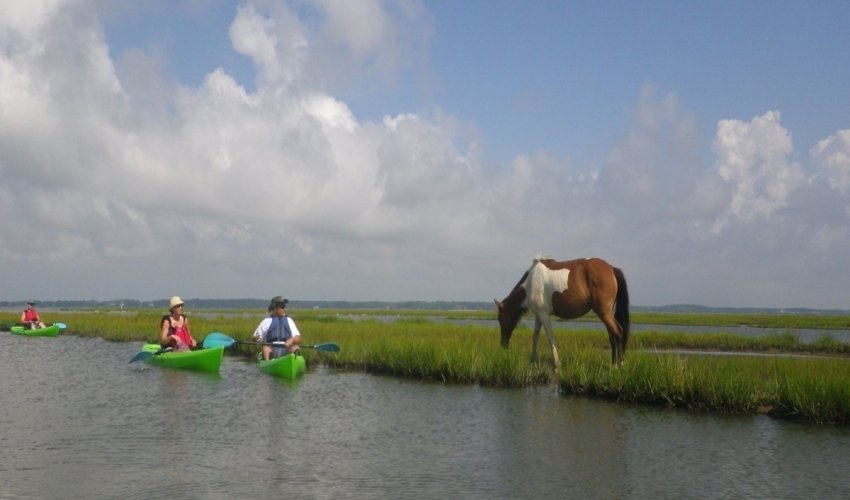 Recent Reviews
Travelers Choice 2020
TripAdvisor Traveler Rating
5
Assateague Outfitters
184
#2 of 12 Outdoor Activities in Berlin
Great day at Assateague
We rented kayaks from Assateague outfitters with another couple. It turns out the weather was not good on Saturday so we decided to go on Sunday instead. Because the other couple had a conflict they...
wendysender
2020-09-28 07:32:42
Assateague Outfitters
Excellent experience in an unforgettable setting.
The staff was excellent. Easy to book kayak rentals with and very helpful at check in and when we returned from our paddle. They were also very accommodating when we requested to change the booking...
O2954VUroberth
2020-09-28 14:03:45
Assateague Outfitters
Wonderful kayak tour
We took a guided tour in Oct 2020 with Justin and one other couple. The paddling was moderate to easy- some small waves and wind at the beginning, then calm waters in the marsh. We saw ponies, birds...
ellenmM5959YI
2020-10-19 13:46:24
Assateague Outfitters