A Latte Enjoy
Open Now 8:30 am - 9:00 pm
Sunday

8:30 am - 9:00 pm

Monday

8:30 am - 9:00 pm

Tuesday

8:30 am - 9:00 pm

Wednesday

8:30 am - 9:00 pm

Thursday

8:30 am - 9:00 pm

Friday

8:30 am - 9:00 pm

Saturday

8:30 am - 9:00 pm
Features:
Boardwalk
,
Cafe/Deli
We have the widest variety of coffee, tea,smoothies, and espresso based beverages at the beach. All of our coffee and espresso is locally roasted so you can have the freshest cup of coffee in OC.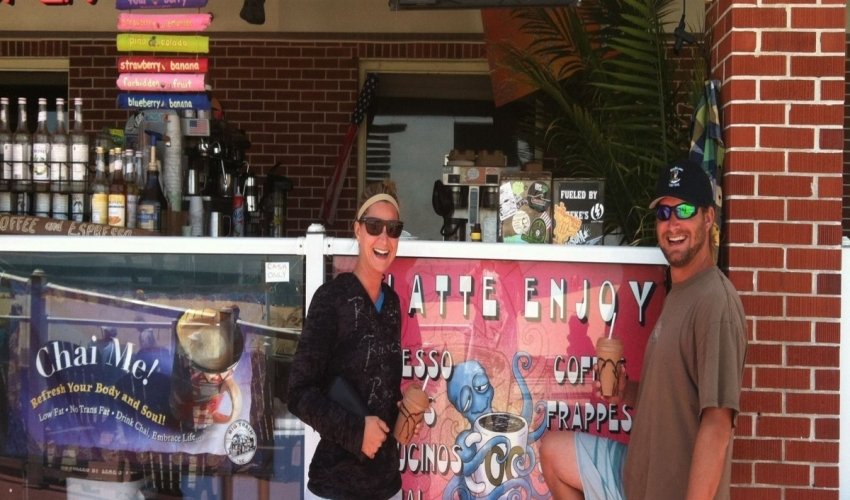 $
Recent Reviews
TripAdvisor Traveler Rating
5
A Latte Enjoy
13
#266 of 407 Places to Eat in Ocean City
My day doesn't start without A Latte Enjoy!!!
I love this little coffee stand so much. It has become a daily necessity during every OCMD trip. Yes, you might wait a few minutes for your drink because there is one person hand making it for you...
BeachPlease713
2018-06-27 11:10:33
A Latte Enjoy
Best coffee shop in OC!
A trip to OC is not complete without a stop into this coffee shop. The people that work there are some of the nicest people I've ever had the experience of meeting. Love their frozen coffees and...
beautifulw0nderful
2018-07-08 18:59:52
A Latte Enjoy
Must visit!
Stumbled upon this place by accident a year ago and saw a sign for a nutella frappuccino. I'm a mid-level nutella fan and this piqued my interest. And it delivered!!! Amazingly good. Best frap I've...
OrangeYouGlad1
2019-07-07 17:29:53
A Latte Enjoy