Under The Bridge Watersports - Jet Ski & Pontoon Boat Rentals
7:30 am - 8:00 pm
Sunday

7:30 am - 8:00 pm

Monday

7:30 am - 8:00 pm

Tuesday

7:30 am - 8:00 pm

Wednesday

7:30 am - 8:00 pm

Thursday

7:30 am - 8:00 pm

Friday

7:30 am - 8:00 pm

Saturday

7:30 am - 8:00 pm
Under the Bridge Watersports offers jet skis rentals, banana boat rides and pontoon rentals. Located in Ocean City, Maryland right under the Route 50 bridge!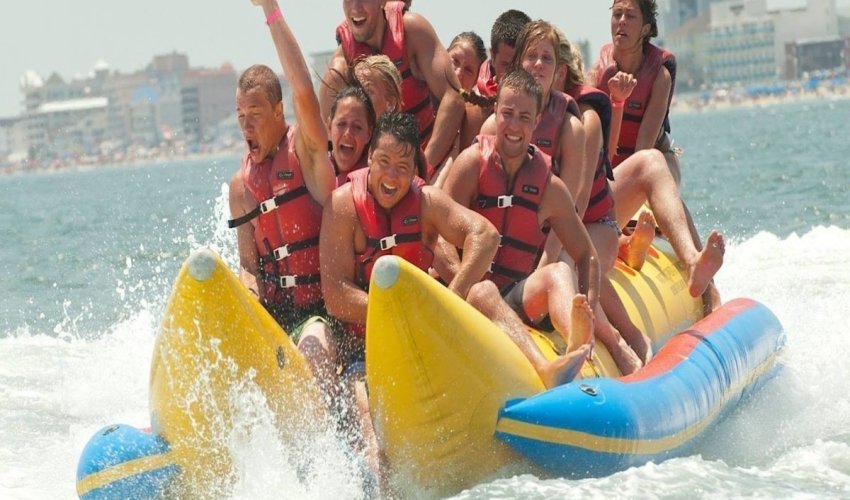 Recent Reviews
Under The Bridge Watersports - Jet Ski & Pontoon Boat Rentals
Bre : 4 on 6/18/2023 1:32 pm
My bf and I visited this place yesterday. We had a ball! We had reservations already so all we had to do was fill out the paperwork. Everyone was nice and friendly. We had a really small group which I loved. They have a very large area for you to jet ski. The jet skis are nice and looks new. We had no problem with ours and they even take your pics for you.

The only negative feedback I would give is that the guides should not drive so fast when taking us to our area, especially for beginners. Although they do check to make sure the group is together, I still felt a bit nervous as I felt kind of left behind. Once we got to our area I was more at ease and then had a ball! Seemed like we were there forever so we definitely got our whole time in. I will definitely LOVE to come again. I wish we could find a coupon before we leave tomorrow because it is a bit pricey. However it is so worth it! ❤️

Someone lead me to a coupon please!🙏🏽😂
Bre
1687095168
Under The Bridge Watersports - Jet Ski & Pontoon Boat Rentals
Ian Knights : 5 on 6/19/2023 5:24 pm
My son was really keen to take to the Jet skis for the second time on our US vacation So we came here one Thursday morning having booked the previous evening. As it happens everything worked out perfectly for him. He was easily persuaded to go out on a one, solo man tour of the waters here with a guy called Justin. They then left for a couple of hours. Intriguingly, they had sworn themselves to secrecy on what they had been up to but my son was over the moon with the whole, brilliant experience. Justin proved to be an excellent, professional tour guide using very modern jet skis.

When we chatted at the Anglers bar nearby at the end he came over as being very relaxed and friendly. Indeed, the whole crew here were a real pleasure to interact with. I also liked the request for my son to do a short video testimonial of his experience both in English and his mother's tongue, German. Thoroughly recommended!
Ian Knights
1687195482
Under The Bridge Watersports - Jet Ski & Pontoon Boat Rentals
Kristen Hargan : 5 on 9/15/2023 1:08 pm
My husband and I were unsure if the jet ski ride/ tour was something we wanted to do. My husband has never ridden a jet ski and I am so so happy I pulled the trigger and booked. Signing in and the instruction part in the beginning was super easy and painless. We took a nice ride and within the first 5min we saw 5-7 horses on a lil island hanging out on the beach. Unfortunately we were having to much fun to stop and take pics. Once we made it to the spot where we could ride freely and go as fast as we wanted and do whatever we wanted we had the best time. My husband and I took turns driving and I must say I was better. Lol The guide was very friendly and made me feel safe. After free riding for a half hour we drove back to marina and guide stopped us at the island to take pics of the horses. 10/10 great I have been online looking at jet skis to buy so we can do this more often.
Kristen Hargan
1694783321
Under The Bridge Watersports - Jet Ski & Pontoon Boat Rentals