Trimper's Rides of Ocean City
3:00 pm - 10:00 pm
Friday

3:00 pm - 10:00 pm

Sunday

3:00 pm - 10:00 pm

Saturday

3:00 pm - 10:00 pm

Monday

3:00 pm - 10:00 pm

Tuesday

3:00 pm - 10:00 pm

Wednesday

3:00 pm - 10:00 pm

Thursday

3:00 pm - 10:00 pm
Welcome to Trimper's Rides.  America's oldest single family run amusement park!    Whether you come to relax or play, Ocean City has always showcased the perfect balance between old and new.  Nowhere is the blending of nostalgic and modern more celebrated than at Trimper's Rides.  Thrill on our dazzling Endeavour or brave the wave with a turn on the local favorite, Tidal Wave roller coaster.  Enjoy classics like the Tilt-a-Whirl and Bumper cars.  Step back in time with the "Pride of the Boardwalk", our 1912 Herscell-Spillamn menagerie carousel.  This glittering gem of American art has been delighting visitors young and old for over a century.  No trip is complete without a ride through the award-winning boardwalk icon: The Haunted House. Rides are just the beginning.  We have games and activities for the whole family. Exciting races and games of skill with the best prizes on the beach.  Pan for gems or try your hand at target shooting in one of our three galleries.  Or just enjoy the sights with a delicious treat from one of our concessions stands.  The flagship Red Apple stand features our famous freshly made funnel cakes! 
There is more than just the fun of rides and games as you approach the south end of the boardwalk.  Our blocks also offer some of the finest in specialty shops and eateries. Hear the sounds of a tropical rainforest and step into another world of exotic animal toys and gifts in Goin Wild on the Boards.  Step into the past as a gunslinger, saloon girl, gangster and more and take home your unique portrait from Olde Town Photo Emporium.   Stop for a beer or a game of pool at The Bar located in the Inlet Lodge.  Come enjoy a stroll through the Inlet Village - OC's most charming and cheerful shopping and dining experience.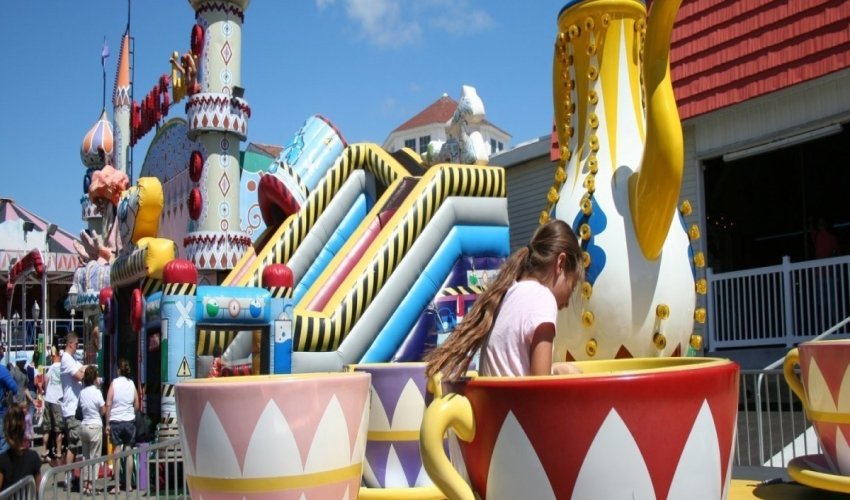 Recent Reviews
TripAdvisor Traveler Rating
4
Trimper's Rides of Ocean City
672
#4 of 28 things to do in Ocean City
Always an enjoyable time
Good selection of rides. Well maintained and never see any rust. Last year while down at OC for our 2 or 3 yearly trips purchased enough tickets for rides & water park day after Thanksgiving for our...
izzy g
2022-07-23 03:26:09
Trimper's Rides of Ocean City
Halloween in July!
We rode Trimper's haunted house. It is similar to other haunted attractions of its type with added spice! We don't want to spoil this, just be aware of what haunts -it is a fun ride--bringing a...
linda s
2022-07-30 09:49:09
Trimper's Rides of Ocean City
Fun for the family
A lot of things for young kids packed in a small area. There were enough rides and games to keep an 8 and 6yr old content for a few hours. We enjoyed the visit. The rides are clean and the staff...
U1920EEchrisp
2022-08-14 05:35:24
Trimper's Rides of Ocean City