Sun & Surf Cinema
Please call for hours
Sun & Surf Cinema, located on Coastal Highway at 143rd Street, is the first theatre in Delmarva to offer luxury power recliners and all reserved seating! We offer Dolby 5.1 digital sound and digital projection for a vivid, crystal clear picture! The luxury recliner seating offers moviegoers the ultimate in comfort with electronic controls for reclining the seat back and raising the footrest. We also offer advanced reserved seating allowing customers to reserve the exact seats they want. Reserve online at Fox Theatres' website, foxshowtimes.com.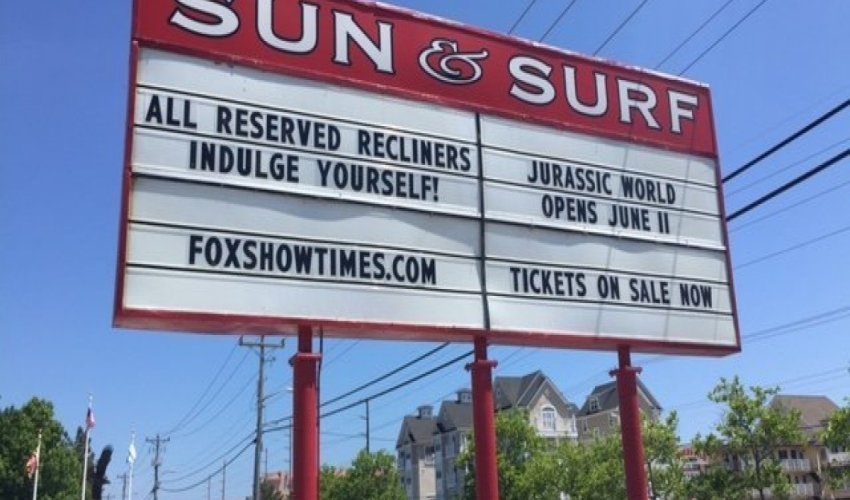 Recent Reviews
TripAdvisor Traveler Rating
5
Sun & Surf Cinema
94
#0 of 0 things to do in Ocean City
Summer in the sun
The views of oceanfront on boardwalk are incredible. The restaurants with fresh seafood are amazing. There are many things to do. miniature golf, boardwalk, clubs, restaurants, shopping parka with...
ItsLikeThis1960
2021-08-21 11:25:25
Sun & Surf Cinema
Nice family theater!
Highly recommend. We were there during off season. Stuff was friendly. Seats are nice and recline and have heaters. Popcorn was PK but not great. Don't judge the book by the cover. The outside looks...
DeraldSmith
2021-10-13 09:08:54
Sun & Surf Cinema
Movie fun
We saw Sonic while reclining on comfy chairs! Even better we only paid $6.50 per ticket. Tuesday are discounted ticket days. Enjoyable experience for my kid too.
StephanieG2
2022-04-13 08:22:05
Sun & Surf Cinema