Paradise Watersports - Parasailing, Jet Ski Rentals
Please call for hours
Paradise Watersports is the largest Watersports facility in Ocean City with the most exciting activities to do in one place! Fly 800 feet!!! Our Parasailing has been rated the best in Ocean City! Offering the longest rides at the lowest prices! Our boats are equipped with the latest winch boat technology which provides comfortable, safe takeoffs and dry landings right off the back of the boat.
We can carry up to 12 flyers per trip and have 4 boats! Fly in the bay and see Ocean City from a bird's eye view - or fly in the ocean and check out the beach and the dolphins! Free-falls and dips available no extra charge. Fun and safe for all ages.. Captain and Mate have a perfect safety record and are both CPR certified. No experience needed!
Paradise Watersports also offers the fastest waverunners in Ocean City! Our fleet consists of 20 brand new Seadoo Gti 4-stroke "3-person" 1500cc skis that will blow your mind! We supply everything you need for an exciting ride... from life vests, safety training, and instruction to the "LARGEST" non-restricted riding area in Ocean City. (Must be 16 with proof of ID)
Our staff is highly trained and focused on your safety! We are located to the left of the Rt. 50 bridge just before you enter Ocean City at Hoopers Crab House.. Plenty of free parking! So stop by, enjoy some seafood, have some cold drinks, and let us take you on a parasailing and jetski adventure that you will never forget!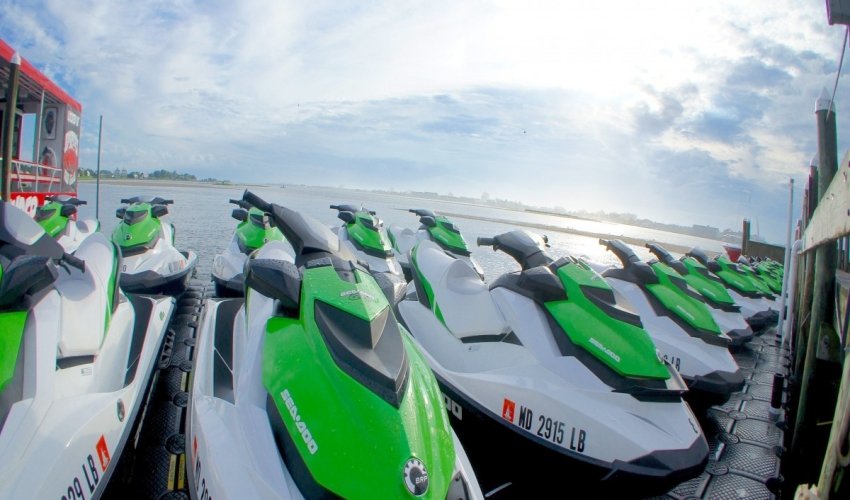 Recent Reviews
Travelers Choice 2020
TripAdvisor Traveler Rating
5
Paradise Watersports - Parasailing, Jet Ski Rentals
335
#8 of 55 Tours in Ocean City
Terrible time management leads to an hour ride being less than 20 minutes.
Don't make the 40 minutes of your company getting us to the spot and instructions be on our paid time. 40 minutes to not ride a jetski and 20 minutes to actually ride one is what we got.
iansL2603UQ
2020-08-30 04:50:33
Paradise Watersports - Parasailing, Jet Ski Rentals
Awesome Parasailing Experience
Parasailing was very fun! The crew was very friendly and helped make the experience more awesome!!!! The weather was great and the sailing was smooth. I definitely recommend parasailing when visiting.
sameerahh2020
2020-08-31 12:00:17
Paradise Watersports - Parasailing, Jet Ski Rentals
Awesome!!!
My family and I had an amazing time parasailing with the team at Paraside Watersports. We were taken on boat by Lucas and Kevin who were both incredibly nice and informative. The two created a very...
595tattyc
2020-09-06 14:18:02
Paradise Watersports - Parasailing, Jet Ski Rentals