Odyssea Watersports
Open Now 8:30 am - 7:00 pm
Sunday

8:30 am - 7:00 pm

Monday

8:30 am - 7:00 pm

Tuesday

8:30 am - 7:00 pm

Wednesday

8:30 am - 7:00 pm

Thursday

8:30 am - 7:00 pm

Friday

8:30 am - 7:00 pm

Saturday

8:30 am - 7:00 pm
Voted by Ocean City visitors as the # 1 Watersports rental in Ocean City, MD. Customer service and safety of customers is top priority. Enjoy a private beach and a paradise feel to our customer area with picnic tables and a great kid's play area with sand toys. All activities can be reserved online for convenience!
Jetski Rentals:
Rent one of our brand new Kawasaki 1500cc Jetskis as you enjoy the largest riding area in Ocean City! The riding area is right in front of the location so there is no wasted time which means you can even come back to the private beach to switch drivers or passengers! All jetskis can hold up to 3 people and have a weight limit of 400 lbs.
ALL NEW ACTIVITY!
Looking for a more extreme jetski rental experience? Then you should check out the all new Seadoo Trixx! Pull wheelies across the water, power slide, drift around turns with this new and interactive jetski ride! See www.OdysseaWatersports.com for videos and information!
Pontoon Boat Rentals:
Enjoy one of our top quality 12 or 14 passenger pontoon boats. They are equipped with shade canopies and all safety equipment. Enjoy the bay by relaxing and catching some rays or you may crab, fish, swim or have a picnic on the water. You can even enjoy Ocean City, Maryland's wonderful restaurants and bars along the bay side by docking at many of them!
Stand up Paddle Board Rentals:
Enjoy the beauty of the bay on a brand new Stand up Paddle Board! Each rental comes with free professional instructions and free life jackets. Enjoy the sights and sounds of Ocean City from a different prospective by cruising across the water.
Single and Tandem Kayaks:
Kayaks are a great way to enjoy the sights and sounds of Ocean City! Sit back and relax as you paddle around the bay capturing the wonderful scenery of Ocean City by water. Included in each rental is your Kayak, paddle, life jacket and professional instructions.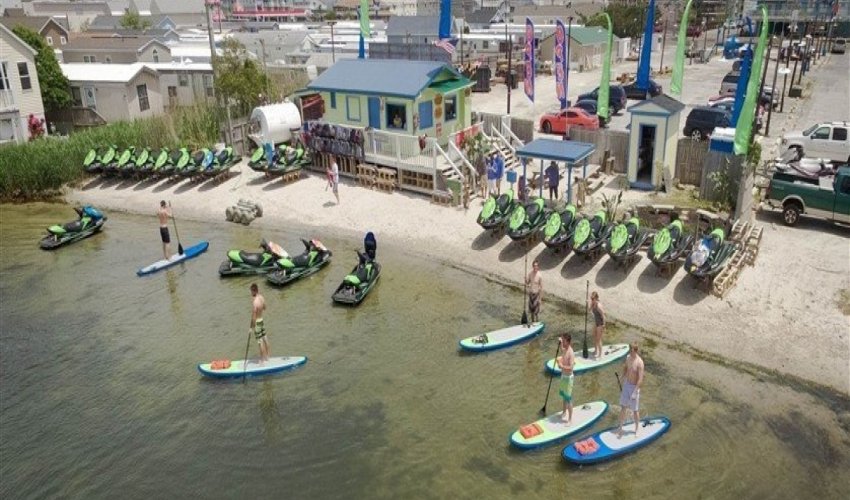 Recent Reviews
Travelers Choice 2020
TripAdvisor Traveler Rating
5
Odyssea Watersports
421
#2 of 55 Tours in Ocean City
Good times at Odyssea Watersports
Had a great time on the jet ski's at Odyssea Watersports. Easy online sign-up. Great staff & hassle free registration/paperwork. The guides on the water are excellent as well. Large area to run...
elsmithpc
2020-09-08 17:26:42
Odyssea Watersports
Great water entertainment
Awesome staff and equipment. I was introducing my kid to jet ski, and everything went smoothly. The guy who was providing guidance for us was very helpful.
dsx1285075
2020-09-09 12:36:27
Odyssea Watersports
Excellent service
It was my first time going jet skiing and it was a great experience. The staff was friendly and great customer service. The booking process was easy. With everything going on everything was properly...
David W
2020-09-14 07:18:45
Odyssea Watersports